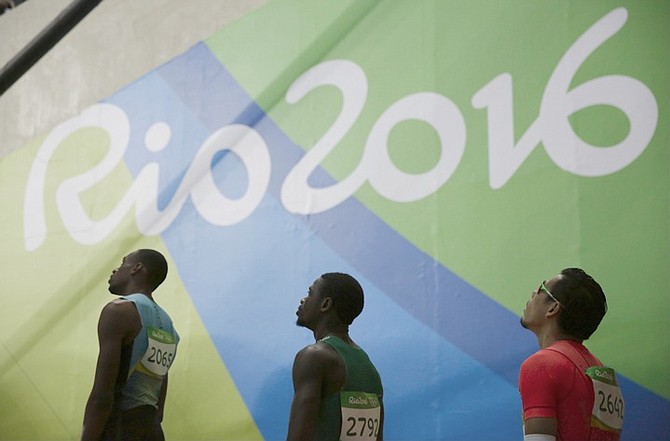 9.30pm: The full story of Steven Gardiner's 400m semifinal is now online HERE.
Sunday sees the following members of Team Bahamas in action:
7:30 pm EST - Donald Thomas, Trevor Barry and Jamal Wilson - men's high jump qualification. Final is set for Tuesday, August 16 at 7:30 pm EST.
7:30 pm EST - Shaunae Miller in the Women's 400m semi-final.
The full schedule for Sunday is:
Athletics
Women's Marathon, 8.30am
Men's High Jump Qualifying, 7.30pm
Women's 400m Semi-finals, 7.35pm
Women's Triple Jump Final, 7.55pm
Men's 100m Semi-finals, 8pm
Women's 1500m Semi-finals, 8.30pm
Men's 400m Final, 9pm
Men's 100m Final, 9.25pm
Badminton
Men's and Women's Singles Prelims, 7am, 2.30pm
Women's Singles and Mixed Doubles Quarter-finals, 6.30pm
Basketball
Men
United States v France, 1.15pm
Australia v Venezuela, 6pm
Serbia v China, 9.30pm
Women
China v United States, 11.15am
Senegal v Serbia, 2.30pm
Spain v Canada, 4.45pm
Beach Volleyball
Women's Quarter-finals, 3pm, 10pm
Boxing
Women's 75kg, Men's 56kg, 64kg, 81kg Prelims, 60kg Semi-final, 49kg Gold Medal, 10am
Women's 75kg, Men's 56kg, 64kg, 81kg Prelims, 60kg Semi-final, 4pm
Cycling (Track)
Men Omnium, Scratch 15km, 3pm
Men Sprint, Finals 3-4 & 1-2 (1st Heat)
Women Sprint, 200m time-trial Qualifying
Men Sprint, Finals 3-4 & 1-2 (2nd Heat)
Men Omnium, Individual Pursuit 4km
Women Sprint, 1/16 Final
Men Sprint, Finals 3-4 & 1-2 (3rd Heat)
Women Sprint, repechages 1/16 Final
Men Omnium, Elimination
Diving
Women's 3m Springboard Finals, 3pm
Equestrian
Jumping Individual Qualification, 9am
Fencing
Men's Epee Team First Round, Quarter-finals and Semi-finals, 8am
Men's Epee Team Finals, 4pm
Handball
Women
Montenegro v Brazil, 8.30am
Sweden v France, 10.30am
Netherlands v Russia, 1.40pm
Norway v Romania, 3.40pm
Spain v Angola, 6.50pm
Argentina v South Korea, 8.50pm
Hockey
Men's Quarter-finals, 9am, 11.30am, 5pm, 7.30pm
Golf
Men's Final Round, 6am
Gymnastics (Artistic)
Men's and Women's Apparatus Finals, 1pm
Sailing
Men's RS:X (medal race), Women's RS:X (medal race), Men's Finn, Men's 470, Women's 470, Mixed Nacra 17, noon
Shooting
Men's 50m Qualification, 8am
Men's 50m Final, noon
Synchronised Swimming
Duet Free Routine Prelims, 10am
Table Tennis
Men's Team Quarterfinals, 9am, 2pm
Women's Team Semi-final, 6.30pm
Tennis
Men's Singles Gold Medal, Women's Doubles Gold Medal and Mixed Doubles Gold Medal, 11am
Volleyball
Women
Serbia v Netherlands, 7.30am
South Korea v Cameroon, 9.35am
Italy v Puerto Rico, 1pm
United States v China, 3.05pm
Japan v Argentina, 6.30pm
Brazil v Russia, 8.35pm
Water Polo
Men
Montenegro v Spain, 11.50am
Australia v Greece, 1.10pm
United States v Italy, 2.30pm
France v Croatia, 3.50pm
Serbia v Japan, 6.30pm
Brazil v Hungary, 7.50pm
Weightlifting
Women's 75kg-Plus Final, 6pm
Wrestling (Greco-Roman)
59kg and 75kg Group Stage, 9am
59kg and 75kg Medal Stage, 3 pm
7.50pm: A strong run from Steven Gardiner in a tight race - but he finishes in fifth place with 44.72 and won't advance. Full story to come . . .
7.30pm: All eyes are now on heat three of the men's 400m semifinals where Steven Gardiner starts in lane five.
2.10pm: The full story and reaction to Shaunae Miller's race is now online HERE.
And the men's 100m story can be read HERE.
11.45am: Fifth place for Shavez Hart with a season's best of 10.28. Usain Bolt finished first in the heat after being slightly slow coming out the blocks.
11.20am: It's Jamial Rolle in action now – he finishes eighth in heat four with a time of 10.68. Shavez Hart will be up soon in heat seven - lane two - competing against Usain Bolt.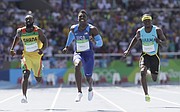 11.05am: Griffith comes in eighth with a time of 10.53.
11.00am: Adrian Giffith up now in lane six of heat one in the men's 100m.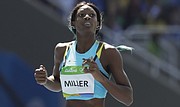 10.40am: A storming start for Shaunae Miller in the 400m – she wins her heat in 51.16 to qualify. Australia's Morgan Mitchell was second with 51.30. Ruth Sophia Spellmeyer of Germany was third in 51.43.
9.15am: If you've got your breath back after Friday's Olympic drama, here's what's in store today for Team Bahamas:
9.28 am EST - Shanuae Miller - Women's 400m heats.
11 am EST - Shavez Hart, Adrian Griffith and Jamial Rolle - Men's 100m heats.
7:30 pm EST - Men's 400m semi-final with Steven Gardiner.