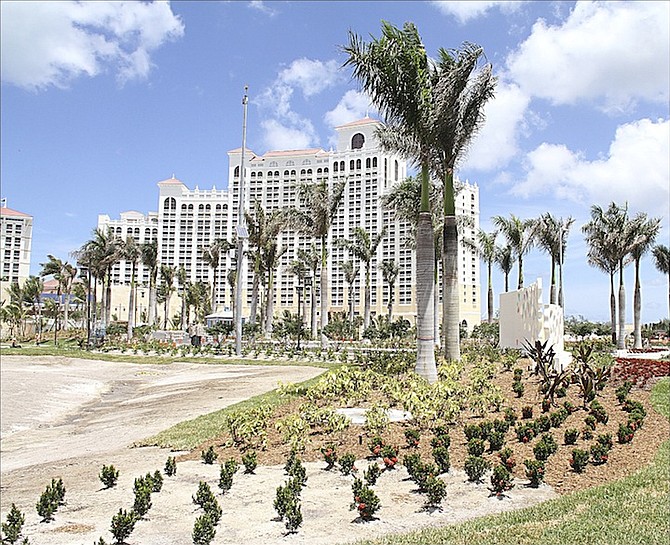 By AVA TURQUEST
Tribune Chief Reporter
aturnquest@tribunemedia.net
MORE than a year on since its failed attempt at brokering an agreement between Sarkis Izmirlian and Chinese stakeholders, a high-ranking government delegation is headed back to China to meet with prospective Baha Mar buyer Chow Tai Fook Enterprises (CTFE) and tour its casino operations.
The delegation, which left for Hong Kong last night, includes: Attorney General Allyson Maynard-Gibson; Tourism Minister Obie Wilchcombe; Sir Baltron Bethel, senior advisor to the prime minister; and four officials from the Gaming Board.
Yesterday, Mr Wilchcombe declined comment on details or the status of the resort's pending sale to CTFE. He also rejected assertions that the government was fast-tracking approvals to get the resort opened ahead of the next general election.
"I can't comment on that," he said. "We are pleased at the pace, pleased that progress has been made and pleased to be a part of this important step.
"We are part of a delegation to meet with potential owners of Baha Mar. We have a series of meetings to cover the various details and discuss with them their interest in The Bahamas and, of course, the casino operations.
"Part of the due diligence is going to look at their operations that they do now in Macau," Mr Wilchcombe said, "and get a general understanding of how their model works. Most of the people associated with their organisation are familiar in the gaming world, they are renowned in other parts of the gaming industry.
"We're going to take a look at the model of their operation and how it fits in ours. This is the largest single floor casino in the Caribbean so you have to be sure of what they intend to do, what games they intend to place on the floor, where the emphasis will be, which markets they will be catering to, whether low scale, upscale, how they are going to phase development."
The Gaming Board complement is comprised of the board secretary Vernon Scott, and three technical staff.
According to Tribune Business sources, a major meeting on Baha Mar, involving all key stakeholders and their Bahamian advisers, took place at the Prime Minister's Office on Monday. It was said that CTFE, and representatives of the China Export-Import Bank and China Construction America (CCA), promised Mr Christie they would try to make 700 rooms at Baha Mar available for March - in time for the peak 2016-2017 winter tourism season.
Tribune Business also confirmed that former Minister of Financial Services Ryan Pinder is leading Graham, Thompson & Co's legal representation of CTFE as it seeks to obtain the necessary government permits and approvals to consummate its acquisition of the $3.5 billion Baha Mar project.
Mr Pinder, the Progressive Liberal Party's MP for Elizabeth, resigned from Cabinet in late 2014.
When questioned about this, Mr Wilchcombe said: "Yeah sure, but you will note that in our earlier discussion we talked about a potential phased opening in the winter season, a soft opening. We are optimistic once everything is completed they will be able to fulfil that."
CTFE announced in a press statement last month that it was in talks to acquire the beleaguered Cable Beach project, and the government received its proposal for acquisition of the resort last week. The proposals include a list of firms that the Hong Kong-based conglomerate is eyeing to run the shuttered mega-resort's casino. Mr Wilchcombe confirmed that CTFE will own the casino license and contract a management firm hired to run it - just as it was envisioned by original developer, Mr Izmirlian.
Since its announcement, there has been some concern over CTFE's alleged link to Chinese/Asian crime gangs known as Triads via their investment in Stanley Ho's STDM and SJM companies. The Cheng family – owners of CTFE – has an equity stake in Macau group STDM.
A May 18, 2009, report by the US state of New Jersey's gaming enforcement division, dealing with a proposed Macau casino joint venture between MGM Mirage and Mr Ho's daughter, Pansy, highlighted concerns that Macau's VIP gaming rooms were vulnerable to exploitation by the Triads.
According to Tribune Business, the New Jersey regulator's report made adverse findings against Mr Ho, describing him as "unsuitable", but no such conclusions were reached about the Cheng family or their companies.
The Hong Kong conglomerate has since pointed out that the Cheng family's role in the Macau casino is strictly as an investor with no involvement in day-to-day management of the casino or oversight of the gaming industry in Macau. It further stated that there will be no affiliation on the Baha Mar project with STDM.
However, documents obtained by The Tribune attest that CTFE Chairman Henry Cheng served as board president at STDM in 1998, and at SJM in 2004. It also indicates that Henry Cheng served as vice-president at other companies owned by Stanley Ho, such as dog racing.
The Tribune has contacted CTFE for comment, but did not receive a response up to press time.
Mr Wilchcombe did not speak directly to this, but offered: "We'll take a look at all those issues. In our earlier discussions (with CTFE) we were told that all that has been reported. We have to do our due diligence and we will reach out to the chairmen of the various gaming boards in the industry."
Mr Wilchcombe has previously said that the due diligence process will take at least three weeks.
Speaking to the pace of the government, he said: "Rushing? This has taken a long time, the due diligence has been incredibly good. We must remember some of the players that are at the table now, were at the table before when Baha Mar was at the hands of other ownership. We are not rushing, we have to get it done, rushing, we're three years late.
"Tourism is growing in the world, we need to get more rooms, more inventory, more economic opportunities and ensure The Bahamas continues to ride the wave of popularity in terms of tourism."
"The Free National Movement and all the players concerned have to say what they have to say, they're opposition. We have to prove that we're right. This group is associated with Rosewood, SLS, what are we talking about? The same hotels as before, they didn't go anywhere, they are the ones being discussed, and we're hoping they are the ones that will be at the final stages."
He said: "What has really changed? I think they're making much to do about nothing. Our Gaming Board is reputable in doing due diligence.
"When Sol Kerzner came to the Bahamas he couldn't get a license in the US because of some speculation, but it didn't stop him from putting together a major company, and it proved to be a great fit for The Bahamas.
"Our history is where we gain our strength, our experience. At the end of the day we have to be realistic, we are very late, it should have been opened years ago, but circumstances beyond our control occurred and the government has brought it to this stage now."