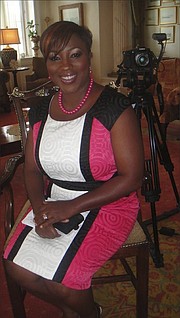 By JEFFARAH GIBSON
Tribune Features Writer
jgibson@tribunemedia.net
BAHAMIAN Samita Ferguson wears many hats and is known as a wife, mother, businesswoman and founder of C.H.A.M.P.S girls organisation.
What few people may know about Mrs Ferguson is that she has way with words and a vivid imagination that can conjure up intriguing stories that are also theatrically entertaining.
Not only has she been juggling her roles, Mrs Ferguson has recently delved into playwriting, which she is ready to explore fully when the new year rolls in.
Her recent breakout as playwright follows years of creating short stories and skits for the Church of God of Prophecy Love Center, of which she is a devoted member.
And on Sunday, the church will host a special production, "The Treasure", which will feature an evening of stories and a play written by Mrs Ferguson. It will be held at the church, beginning at 7pm.
There will be performances by artists such as Tamika Taylor, Davian Chase, Taedan Ferguson, Naya and Nazya Maycock, Rashad Cunningham and the Church of God of Prophecy Junior Brass Band.
"Today one can note that people are dying, perhaps not physically but mentally, due to lack of joy, and hope," she said. "One can be assured that coming to 'The Treasure' they will be uplifted and rejuvenated to start afresh, perhaps forgive where necessary and to tap into the gift that lies within. The plays in the past have brought hope and changed lives; we anticipate the same for this year's production."
The evening, she said, will be filled with short stories from primary years to adult years, along with singing and dancing.
Mrs Ferguson said that while she has been writing for years, she is excited that a passion to pursue it fully has been ignited.
"From a little child I remember engaging in 'I am a little tea pot', the nursery rhyme that I rang out during my pre-school's Christmas production. In junior school I remember acting as a Shakesperian during one of the school's assemblies. Then, in my senior year, I acted in a play called the 'Prodigal Daughter" written by Dr Beulah Farquharson.
"Later, through my early 20s, I performed in another play which was held at St Mary's Hall in the early 80s. Perhaps those were stepping stones to the greatest picture. My love for the arts and writing stories of hope, stories of faith building, stories of miracles and stories of wholesome relationship no doubt was embedded in me by my grandmother, the late Jenny Thompson, and my mother, Helen Allyene Taylor, who is a poetic genius as well as my uncle and aunt, Bishop George and Minister Damaris Thompson who are playwright extraordinaires," she told Tribune Woman.
While most of the plays she has written were mostly short stories tailored to fit a limited time slot within a church's programme, it was not until a few years ago she was inspired to turn one of them into a full stage play.
"I have written short skits for my local church; a church that has brilliant actors and great talent if I may add. Four years ago that I decided to make one of the plays I wrote called 'The Fallen' into a full stage play. I am grateful for the reviews received. After that I felt the urge, the nudge that this 'thing' was beyond me and it was time to spread my wings, and create all that God wanted me to create.
"Get ready in 2017 for greater works. My passion is to advance the kingdom of God via the arts, telling stories of hope and faith," Mrs Ferguson said.
As for where she sees her playwright career going she said: "There is power in the spoken tongue, so I see it going beyond the shores of the Bahama Islands. I see it reaching the lost at any cost and reminding people that all is not lost. The Word declares 'he that begins a good work is able to complete it until the end'," she said.