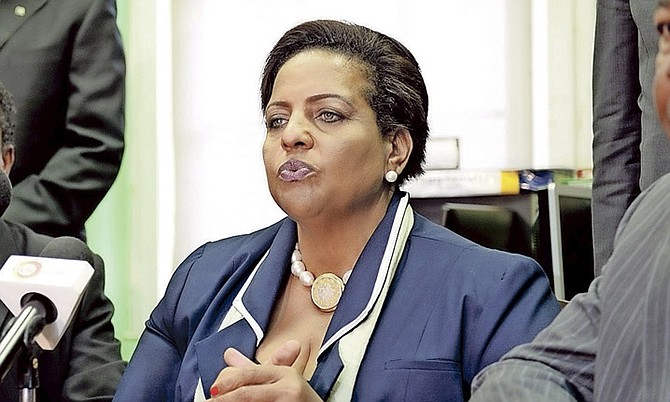 By KHRISNA VIRGIL
Deputy Chief Reporter
kvirgil@tribunemedia.net
LONG Island MP Loretta Butler-Turner insisted yesterday that she was not "frightened" by a recently submitted petition rejecting her 2017 general election candidacy for her constituency while maintaining that she remains committed to the area.
She further expressed doubt that the petition reflected even half of the voter base in Long Island.
Mrs Butler-Turner, who was already ratified to run for the constituency, told The Tribune she was not afraid of competition when it came to contesting the seat, but would not yet reveal whether she intended to run as an independent candidate.
This, she said, would depend on what conclusion the Free National Movement comes to at the end of the disciplinary proceedings now underway against her and the six other FNM MPs who wrote to Governor General Dame Marguerite Pindling expressing no confidence in FNM Leader Dr Hubert Minnis.
This led to his removal as leader of the Official Opposition. Mrs Butler-Turner was officially sworn in as his replacement on Sunday, but this has placed her candidacy with the party hanging in the balance.
"I am committed to Long Island," Mrs Butler-Turner said. "Long Island has to determine whether I have been good for them or not. The proof is always in the election.
"Quite frankly elections are about getting the majority of the votes. You want to know if I am going to run in Long Island? I am not afraid of competition."
Asked if she was going to run as an independent, she responded: "I am an FNM. Have they expelled me yet? I will deal with whatever is dealt to me. I am committed to Long Island.
"If the FNM decided to withdraw or rescind (the) ratification of me then I will have to know what I will do. If that is what the party wants to do I am not about to get into a rowing match with them. It is up to the people of Long Island to decide what they want to do.
"A petition… that doesn't frighten me. I'll guarantee you that it doesn't have 40 per cent of the voter base."
On Monday, Dr Minnis confirmed that the party started its search for a new candidate in Long Island.
FNM Chairman Sidney Collie added that the party received a petition from voters in Long Island who say they do not want Mrs Butler-Turner to represent them in 2017.
However, when he was contacted yesterday, he would not say how many signatories were on the petition. He has told The Tribune that the petition, along with the opinions of constituents, would play into whatever decision the Executive Committee makes.
On Monday, former FNM Cabinet minister Tennyson Wells weighed in on the situation predicting that Mrs Butler-Turner's efforts were "going nowhere."
At the time he said: "She wouldn't even get her deposit back. Mark my words. Whoever controls the torch symbol, the name and the council will be the winner in this. At the end of the day, all of this will lead them nowhere."
Meanwhile, Dillis Smith, former FNM Long Island Constituency Association chairperson, said the petition submitted to the party on Sunday night was formal notice that "Long Island don't want lazy Loretta."
According to Ms Smith, contention between certain constituents and the MP has been building since 2012. However, she said the "stunt" the MP pulled last week was all they could take.
Mrs Butler-Turner, Central Grand Bahama MP Neko Grant, St Anne's MP Hubert Chipman, Montagu MP Richard Lightbourn, North Eleuthera MP Theo Neilly, Central and South Abaco MP Edison Key and Ft Charlotte MP Dr Andre Rollins each signed a letter of no confidence last Wednesday in Dr Minnis.