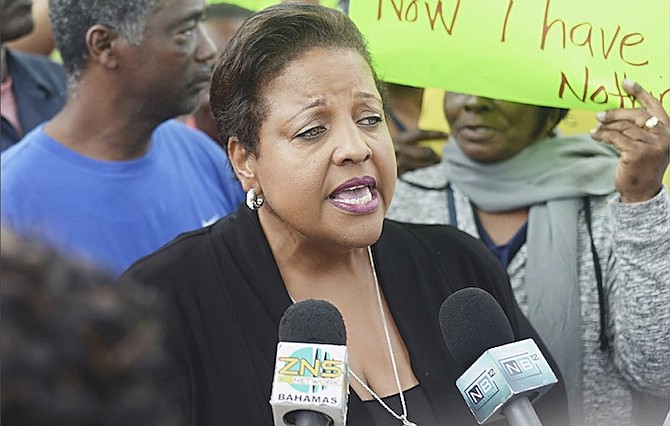 By SANCHESKA
DORSETT
Tribune Staff Reporter
sdorsett@tribunemedia.net
LONG Island MP Loretta Butler-Turner said yesterday she is "not at all concerned" about or afraid of a possible challenge for her seat by Fort Charlotte MP Dr Andre Rollins.
In fact, Mrs Butler-Turner said if the people of Long Island want "bad, lackluster" representation, "they are free" to have Dr Rollins.
In an interview with The Tribune, Mrs Butler-Turner said she has gone above and beyond for the people of Long Island and urged her constituents to "speak with" the people of Fort Charlotte "to see just what they think" of their current member of Parliament.
On Thursday, Dr Rollins, a member of the Free National Movement, said he would challenge Mrs Butler-Turner as an independent candidate if the voters on the island urge him to do so.
His threat came hours before the FNM announced it had ratified Mrs Butler-Turner as its standard-bearer for the constituency in the next general election.
Speaking to Mrs Butler-Turner's representation in her constituency, Dr Rollins claimed that voters in Long Island are at their wits' end with the MP.
"I think if you were to look across the whole spectrum of MPs sitting in Parliament, I do not have to blow my own horn," Mrs Butler-Turner said, when contacted for comment.
"I have been a stellar MP and I trust the people of Long Island, when they make their decision, it will be the right one. There is always competition in an election, you will always run against someone, but I have no fear of Dr Rollins. "The people will vote based on performance. Dr Rollins cannot do what I have done for the people. He has his own constituency, does he not? Why isn't he running to be their representative? The people of Long Island only need to ask the people of Fort Charlotte what kind of representation they have gotten from Dr Rollins. There is a reason he isn't running there as an independent."
On Thursday, the FNM also announced that former Democratic National Alliance Chairman Mark Humes had been ratified to run in Ft Charlotte.
Mrs Butler-Turner called Dr Rollins' performance as a member of Parliament "lackluster at its best."
"There is no competition," she added. "Everyone seems to be looking for something to get into and he chooses Long Island, I have no fear in that. I have done my best," Mrs Butler-Turner said.
"If the people of Long Island don't want good representation and they want Dr Rollins, they are free to have him."
FNM Leader Dr Hubert Minnis and party executives are expected to endorse Mrs Butler-Turner tonight during a town meeting in Long Island.
Although she is considered to be a very popular MP, there are some on the island who have said they do not want her as their candidate.
Earlier this month, former Cabinet minister Tennyson Wells told The Tribune that he instructed a group of voters in Long Island to draft a petition for Mrs Butler-Turner's removal if they truly wanted another FNM candidate.
Mr Wells said this group approached him for counsel during the most recent regatta on the island where he advised them that the most effective way to get the party's attention was to gather as many signatures as possible to prove that she is no longer supported.