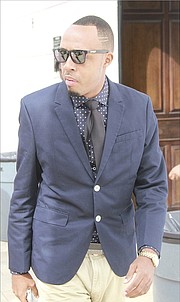 By LAMECH JOHNSON
Tribune Staff Reporter
ljohnson@tribunemedia.net
A MAGISTRATE has asked for submissions from a lawyer defending a former police constable against voyeurism allegations on whether the accused should have been tried in Supreme Court instead of the lower court.
Magistrate Andrew Forbes is presiding over the trial of Edmund Lewis Jr concerning allegations that he produced child pornography videos between July 2014 and January 21, 2015.
Following testimony at a previous hearing at which the complainant alleged that the recording was done without her consent, defence lawyer Wayne Munroe, QC, questioned whether the alleged offence was reported after the six-month statute of limitations had expired.
He said the matter had to be reported within six months after the alleged offence and that based on the teen's testimony, the alleged offence took place between late June and early July 2014.
Darell Taylor, Crown prosecutor, countered that that the amended law provides for the case to be reported up to one year after the offence.
Magistrate Forbes had adjourned the trial to yesterday to consider the submissions.
Tonique Lewis, an associate of Mr Munroe, appeared yesterday in what was expected to be the magistrate's ruling on the submissions.
However, the prosecutor was unavailable for yesterday's hearing and the matter was further adjourned to March 11.
Magistrate Forbes, though, asked that Mr Munroe provide the court with submissions on whether Lewis Jr should be made to stand trial in Supreme Court if the prosecution's argument that the statute of limitations for the matter to be heard in Magistrate's Court had passed.
The court has heard prior testimony that Lewis Jr allegedly admitted, in his record of interview with police, to filming his sexual encounters with a teenage girl he had met in September 2014.
However, the accused allegedly said he thought the girl was older than 17 and she consented to being filmed.
The document's admissibility is also being challenged as Mr Munroe argued that not only had his client been under duress when questioned by the senior police officer, but he had also been recovering from a physical attack that required him to receive medication after being discharged from hospital.