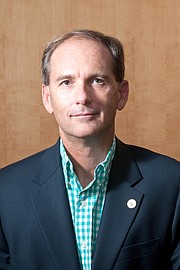 The Bahamas cannot afford "another five-year cycle" of unaccountable government spending, a governance reformer warned yesterday, arguing that a Fiscal Responsibility Act should have "preceded" Value-Added Tax (VAT).
Robert Myers told Tribune Business that having successfully implemented VAT, the Government had returned to its "normal ways" and was ignoring the calls for greater transparency and accountability in how it spend taxpayer money.
Agreeing that there needed to be more "control" and scrutiny over government expenditure, so that the Bahamas avoided "a bottomless pit", Mr Myers said a Fiscal Responsibility Act should have been implemented within at least 12-18 months of VAT's January 1, 2015, introduction.
He was commenting after Michael Halkitis, minister of state for finance, told an accountants' conference on Wednesday that the Government had collected $852 million in VAT receipts during the tax's first 18 months.
While these figures were largely already known, and it is unclear how much of a net government revenue increase this translates into, Mr Halkitis's comments have renewed debate on how the Christie administration is spending its revenue windfall.
The Prime Minister, in his February 2015 mid-year Budget debate, committed the Government to producing a 'white paper' that would launch public consultation on whether the Bahamas should introduce its own version of a Fiscal Responsibility Act.
This 'white paper' was supposed to have been issued in summer 2015, with Mr Christie setting out a timetable that involved recommendations going to Cabinet on whether such legislation was appropriate by year-end 2015.
None of these steps has occurred, and no 'white paper' has been issued, despite a Fiscal Responsibility Act having been "number one on the list" of priorities when the private sector's Coalition for Taxation Reform agreed in late 2014 to a broad-based, low rate 7.5 per cent VAT.
"Number one on the list when we came to that [VAT] agreement was that it had to be followed by Fiscal Responsibility; it had to be," Mr Myers told Tribune Business. "That was number one on the list of the 13 conditions we had."
Several private sector executives have subsequently told Tribune Business that the Coalition's mistake was to agree to VAT without pinning the Government down on a Fiscal Responsibility Act, and that it should have conditioned acceptance of the new tax on such legislation being implemented.
Mr Myers, meanwhile, referring to Mr Halkitis's comments on VAT monies, said: "The amount of revenue is important because it was supposed to pay down the debt and meet some shortfalls.
"But, more important, is more control as to how we're spending our money. If we have more control over how we're spending our money, we will not have a bottomless pit.
"In our opinion, a Fiscal Responsibility Act should have preceded VAT," Mr Myers added. "It should certainly have come within 12-18 months after.
"Like every government they respond to the crisis, and once the crisis is over, they go back to their normal ways."
A Fiscal Responsibility Act would force the Government to be more accountable and transparent in the management of the public finances, and require it to return to Parliament for approval to raise more money if it had to exceed the limits approved in the annual Budget.
Several observers have suggested that this Act should set fiscal targets and so-called 'rules', such as a maximum debt-to-GDP ratio the Government cannot exceed, but others have warned that this would lock or 'box in' the administration such that it would not be able to effectively respond to emergencies, such as Hurricane Matthew.
Mr Halkitis has argued in the past that the Government's use of VAT revenues has been misunderstood, with the monies going into the Consolidated Fund to meet all manner of expenses, and cover shortfalls that were producing $300-$600 million annual deficits.
Yet while the deficits have reduced, they are still being incurred, and the $150 million in Matthew relief funding has already 'blown' the Government's projected $100 million deficit for the 2016-2017 fiscal year.
The Government is projecting that the GFS fiscal deficit will be eliminated by the 2018-2019 fiscal year, but in the meantime, notwithstanding VAT's implementation, the national debt has continued to grow throughout this administration's tenure - albeit at a slower pace in recent years.
At end-June 2016, Central Bank data pegged it at $6.695 billion or 74.9 per cent of GDP - a ratio in excess of the so-called 70 per cent debt-to-GDP 'danger threshold' established by the International Monetary Fund (IMF).
As a result, the increase in national debt and continued deficits, despite VAT's implementation, have raised concerns about the level of public spending, and whether the new revenues are being used to finance bigger government and more social programmes.
Mr Myers warned that open, accountable governance was "completely lacking" in the Bahamas, with "almost no transparency".
"If they're concerned Bahamians and concerned for their children, and concerned for the ongoing success of the economy and the country, then perhaps the only thing they should be concerned about is open, accountable, responsible governance," he told Tribune Business.
"We do not have, in my opinion, room for another cycle of this type of unopen, unaccountable governance. If this continues for another election cycle, the country is going to be in dire straits.
"We have to fix this. We've got to change the culture of governance and have more collaboration between voter and government. Governments who do not want that have no business existing. The more successful countries have more open and accountable government."