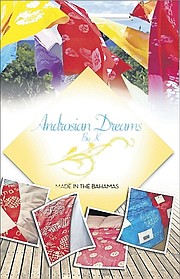 By JEFFARAH GIBSON
Tribune Features Writer 
jgibson@tribunemedia.net 
Entrepreneur Kimberly Marshall is on a mission to prove that big dreams can come from small places. 
As the owner of the small manufacturing company Androsian Dreams by K, which specialises in creating Androsia print bed linen, she hopes to create top-of-the-line products that can be found in hotel rooms and homes all over the world. 
Ms Marshall was born in Freeport, Grand Bahama, where she spent most of her childhood years. Since coming to Nassau, she has had many exciting jobs that have allowed her to expand on her knowledge and which have opened the doors for better opportunities. 
"The one that really stood out that I felt made an everlasting impression on me was the Nassau Airport Development Company (NAD). I was afforded the opportunity to start along with this new company that was about to change the airport here in Nassau forever. Their job was to manage and operate the airport and provide opportunities for Bahamians. My role was an IT and e-records administrator, a position I held for eight years. Since then I attained many certificates that gave me a better insight into this amazing career. I now run and operate a small cafeteria," she told Tribune Weekend. 
In addition to running the cafeteria, Ms Marshall has turned her attention to building the Androsian Dreams by K brand. Her goal is to officially launch the company in December. 
For right now, she is laying the groundwork and pursuing a large clientele. 
"I started thinking creatively and wanted more and more to pursue my passion of becoming my own boss. I wanted to bring something different to the Bahamas and fill that niche that I felt we were lacking. My idea was to be unique and different from all the other businesses in the Bahamas. I thought of bed linen and how wonderful it would be to become the local supplier that would deliver the products for our large and small hotels. This would have saved the hotels the hassle of ordering the products oversees," she said. 
Then, Ms Marshall said, she had another idea – to manufacture bed linen by using the famous Androsia print.
"I thought we can not only sell to the local market but our products can be sold worldwide, and that can further put us on the map. Since then I started putting together all the pieces and came up with a catchy name Androsian Dreams by K. My company was born," she said.
While the company does not have its official launch until December, Ms Marshall has been working on her Androsia creations for more than a year now. 
"I like the fact that this is different; it is Bahamian. And I enjoy creating the Androsian Dreams by K – bed linen because our bed and breakfasts and small hotels on the Family Islands can benefit from this by outfitting their beds with our products that will attract tourists," she said.
The company offers twin and queen sheet sets, twin and queen comforter sets, bed skirts and an assortment of accent pillows.
"I feel the Androsia design is unique because it is made on Andros island and it speaks about the Bahamas. It is designed with the Bahamas national bird, fish, trees, and some colours that represent our national flag. This material stands out because of it's design and attractive colours, and that's what makes it unique," she said.
"My goal is to be able to create top-of-the-line bed linen that can be seen all over the world, and be able to supply and meet the demand. I would like to make Androsian Dreams by K a household name."