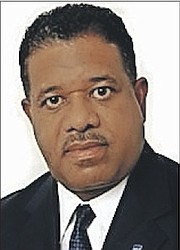 By AVA TURNQUEST
Tribune Chief Reporter
aturnquest@tribunemedia.net
ALTHOUGH its latest postponement pushes the Progressive Liberal Party's leadership challenge into election campaign season, former PLP MP Philip Galanis insisted yesterday that a late convention could electrify support for the party in an otherwise tough cycle.
Mr Galanis said the reality that the 2017 general election will not be a "slam dunk" for the incumbent administration has been solidified by the low voter registration turnout.
He pushed back against suggestions that a convention in January or February would hurt the chances of leadership contender Alfred Sears, who recently launched a platform of widespread reforms that he hopes to introduce next term if successful.
"Even so close to elections," Mr Galanis said, "it would still be four, five months away from elections next year. Every office becomes vacant and it's good for all positions to be challenged. I don't think it adversely impacts his chances to be successful – it depends on when the campaign is and when the election is called.
"A focused approach to leadership will cause the leader to zero in and focus on how best to take the party forward. It's not going to be a slam dunk, this is not going to be an easy election, as clearly indicated by the voter registration drive which is really a concern."
He added: "Challenges make a leader stronger, and make the party stronger.
"If you just walk in unopposed, and think you can do so - so close to the elections, we're not going to be calling the very best. I think a challenge will electrify the base."
The PLP's council voted on Thursday night to postpone the convention from November until January or February of next year due to the damage several islands sustained in Hurricane Matthew.
The PLP has not held a convention since 2009, even though the party's constitution mandates that one be held every year.
Initially, the convention was planned for November 2015 but was rescheduled for April 2016 because of Hurricane Joaquin, which pummelled the southern islands last October.
Then the April date was rescheduled to later this year to give attention to the June referendum on gender equality.
A January or February convention would coincide with the time frame in which the PLP is expected to ramp up its campaign for the next general election.
Yesterday, Mr Galanis noted that while conventions tackle serious internal party issues, the events are generally regarded as a time of celebration and camaraderie.
He said it would not send the right signal about the party's commitment to bringing relief to the large cross-section of Bahamians still in recovery after the brutal category four storm.
"I agree whole-heartedly with the decision not to hold the convention," he said, "specifically when we are still in recovery phase from Hurricane Matthew. It's more important to focus our attention on that exercise than hold a convention."