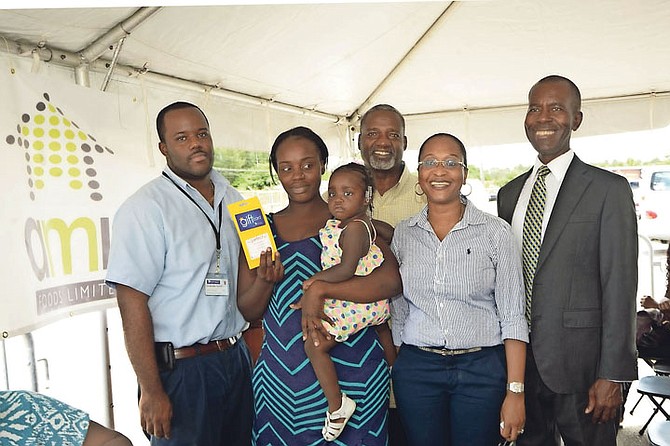 By DENISE MAYCOCK
Tribune Freeport Reporter
dmaycock@tribunemedia.net
SIXTY single mothers in Grand Bahama received much needed assistance this week thanks to the Bahamas Feeding Network (BFN) with the support of AML Foods Ltd.
The women were each presented on Thursday with $100 food vouchers to shop at Solomon's Freeport, which is owned and operated by AML.
Philip Smith, Executive Director of BFN, said: "We know things are tough and we wanted to come here and ensure that people eat. Our mission in the BFN is to eradicated hunger."
The recipients were selected by their churches and community leaders, who submitted their names to the BFN.

Mr Smith said BFN started two and a half years ago and has donated almost $400,000 in food vouchers with the support of corporate partners. "It is our belief that we could do a whole lot more," he said.
He thanked Mrs Renee Bastian, AML's Vice President of Marketing. "She has gotten her company to agree to give donate $100,000 over three years to the BFN, and so this initiative is a part of that donation," he said.

"When we launched the Bahamas Feeding Network nearly three years ago, we knew that hunger affected one in every eight people in the Bahamas who live below the poverty level, but it was not until we reached out on a daily basis partnering with churches, helping in soup kitchens, plating food in feeding centres, that we fully understood the desperation," Mr Smith said.
"And of all the people we help feed - the indigent, the elderly who are often too proud to admit they are hungry, those who have fallen through the spaces of a safety net - there was no group that needed help more than single mothers. So on this day, we want to recognise their struggle and make life a little bit easier for them by distributing these $100 food coupons to 60 women, each of whom has multiple children and must find a way to support and feed them without a spouse who could share the burden."
Mrs Bastian said AML Foods feels very strongly about hunger prevention and that, to date in Nassau and Freeport, they have contributed over $30,000 in food coupons through the BFN.
"With in the last 10 years, I was also a single mother and I thank God I was in the position to have a job and take care of my daughter, and I understand what it is when it's just you," she said. "I am so happy that we as a company are able to come here today and help those single mothers. There are fathers too who are also out there doing it on their own, and I also seeing this programme going to where we also help single parents as opposed to just single mothers.
"We envision a day when nobody has to wonder where they are going to get their next meal from. That's why we think it so important, and why we continue to partner with the Bahamas Feeding Network and why we pledge $100,000 over the next three years to BFN."
Mrs Basitian noted that AML is committed to helping the needy in the communities. "These are tough economic times when most organisations have had to cut back on assisting in order to survive. We consider it our responsibility to step in and help the less fortunate in the communities we operate in."
Mr Smith thanked Pastor Paul Mullings, of Mt Caravel Baptist Church, who was in charge of securing names and compiling a list. He said that BFN has 120 member partners that include soup kitchens, churches and feeding organisations that help them identify those in need.
"I embrace every opportunity to help those in need regardless of who they are, and I am grateful that Philip Smith of BFN opened the door way that I can be of greater help," Pastor Mullings said. "We have a feeding programme at our church, and by inviting us to come on board has really filled a void," he said.
Mr Mullings said that while they can't meet everyone's needs this time, they will create a database with names, addresses and telephone number of recipients.
The recipients were very grateful to BFN and AML for assisting them. A grandmother who is caring for her grandson said: "There are a lot of people hurting financially, it's hard, and I am not working and I need help. I have a grandbaby home and having to provide lunch for her every week is not easy, so I really appreciate this gift. God is really good."
A single widowed mother, with three children, said things have been extremely rough since losing her husband in an accident. "I want to say thank you guys, I really needed the help. I lost my husband in a car accident and he left three kids behind. I am working, but it is hard to keep the light, water, cable on, and food for the three kids. I thank God because it was blessing, just two days ago I was praying and rest my hands on the cupboard, and I know this is blessing from God."