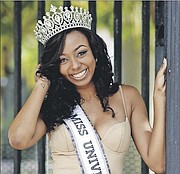 By ALESHA CADET
Tribune Features Reporter
acadet@tribunemedia.net
At age 23, Cherell Williamson can finally say that she has conquered her shyness. And not only did she successfully overcome her natural timidness, she did it in a way that could not have been grander or more public.
Less than two weeks ago, the young entrepreneur stood in shock as her name was called out as the new Miss Universe Bahamas title holder.
"It took a while for the win to sink in for me and when it did it is such a great feeling to know that I worked for it and that I actually came through as the winner. I am into modelling, but pageantry wasn't ever really my thing because I was shy, but I took the leap and was successful," she said in an interview with Tribune Woman.
In addition to taking a leap of faith, Cherell also had her best friend, Miss Universe Bahamas 2012 Celeste Marshall, to encourage her.
"She has been an inspiration to me. After sitting down with her she told me this is something I can only gain from; there's nothing to lose. There have also been a few people that approached me about it and told me that if I continue to be shy then I am going to miss out on a great opportunity that can potentially change my life," she said.
The Queen's College graduate further shared her thoughts on the experience, her favourite phase of the competition, and advice for young women like herself that may be hesitant. 
"The sessions with the contestants were my favourite. Everyone got along and it felt like a sisterhood and not a competition. The board was always amazing and friendly, giving us experiences that we can walk away with and remember. We had style sessions, cooking lessons, a girls' evening and did tours around Nassau which created long-lasting memories," said Cherell.
Above all, Cherell enjoyed formulating and executing her platform that focused on entrepreneurial empowerment for the youth and the disabled.
"I am a young entrepreneur, specialising in face painting, makeup artistry and jewellery design. With this trade I have had the opportunity to work with five hearing impaired young ladies and successfully trained them in the art of jewellery making," she said. "They have all formed strong business ethics."
She believes the Miss Universe Bahamas Organisation allows for self-development and personal growth, and their pageant is something any young woman should want to be a part of.
"I was afraid, and fear is normal, but I would tell young ladies to never let it hold you back. Strive for your full potential and do whatever you want to do with your life," she said.
Michelle Collie, national director of the Miss Universe Bahamas Organisation, said with limited amount of time to put it all together, acquiring the franchise this past April, the priority was on ensuring that the experience for the contestants was a positive and empowering one. She said by the end of the pageant, they were all given something that take away.
"I believe the most important part of pageantry and life is perspective and attitude. It is so important to me that in any undertaking, from waking up and getting out of bed to whatever career aspirations and relationships you have, that you have the right attitude and perspective with which to deal with those things every day – from the most simple to the most complicated," said Ms Collie.
"It is also so important to me that we embrace and uplift each other, and oftentimes there is too much of the tearing down and not lifting up."
Ms Collie, herself a former Miss Bahamas, said they had "10 of the most beautiful ladies" in this year's pageant.
"People were talking about them all over the place; about the incredible selection. The judges did a phenomenal job, and with the production everything was where it supposed to be in terms of the transparency. As we move forward with Cherell going to the Miss Universe (competition) in the Philippines on January 30, we just want to make sure that we are giving her the training that she needs in order to go over and perform her best, and also making sure that we garner the support as a nation, and making sure that we support our Bahamians," said Ms Collie.
"To me, going to the Miss Universe contest is (like) one of our track and field athletes going to the Olympics. Everybody doesn't see pageantry in that way, but we have the opportunity to use it as a very high profile opportunity for people to be curious about the Bahamas. I think (Cherell) is going to do very well just by going over there and being the best version of herself. She is very good at walking into a room and stealing the attention."