4.50pm UPDATE: Jerome Fitzgerald has released a statement on this story - you can read it HERE.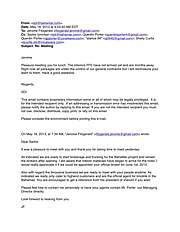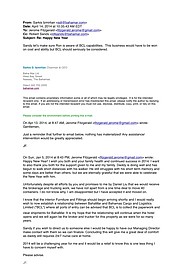 EMAILS leaked from a data breach of China Construction America's (CCA) servers show that from as early as 2013, Jerome Fitzgerald was seeking to secure millions of dollars in brokerage, trucking, and limousine contracts at Baha Mar while he sat in Cabinet as the Minister of Education, Science and Technology, The Tribune has learned.
The emails contradict the Minister, who this week denied ever using his office to direct contracts to himself or his family from the multi-billion dollar resort.
Mr Fitzgerald - the Progressive Liberal Party MP for Marathon - appears also to be requesting $20,000 a month from Baha Mar's original developer Sarkis Izmirlian, citing the expenses that were necessary to cover the cost of his father's medical treatment.
The emails were obtained by The Tribune following a story in December highlighting the breach of CCA servers by a San Francisco hacker. China Construction eventually paid 24 bitcoins (the equivalent of $24,000) to have access to their servers restored; however, it appears that emails forwarded to, or relating to personnel at CCA were compromised, despite top officials at Baha Mar saying they were not concerned by the hack at the time.
In an email dated May 18, 2013, sent to Mr Izmirlian by Mr Fitzgerald, with Quentin Porter, Shelly Curtis and Alarice Fill copied, Mr Fitzgerald indicates his readiness to start brokerage and trucking services for the Baha Mar project and remain the brokers of record for the property.
Mr Fitzgerald writes, "I am aware that interior materials have began to arrive for the hotel. I would really appreciate it if we could be appointed your official broker for June 1st 2013."
He then makes a request of Mr Izmirlian for limousine services at Baha Mar, as he touted the level of clientele with which his limousine company was familiar.
"Also with regard the limousine business we are ready to meet with your people anytime," he writes.
"As indicated we really only cater to highend customers and are the official agent for Limolink in The Bahamas. You are encouraged to get a reference from the president of Viacom if you wish. Please feel free to contact me personally or have your agents contact Mr Porter our Managing Director directly."
Limolink, according to its website, is a high-end ground transportation service, that focuses on "maintaining a professional network of chauffeurs and late model luxury vehicles".
The email exchanges show the Minister becoming increasingly distressed as his requests go unfulfilled, with a plea in January, 2014, asking Mr Izmirlian and Baha Mar's Senior Vice President of Government Affairs, Robert 'Sandy' Sands, to cement a relationship between China State Construction and Bahamas Cargo and Logistics Limited (BCL) in which all ports of entry would be advised that BCL is to collect the paperwork and clear shipments for the resort.
BCL is owned by the Fitzgerald family.
Mr Fitzgerald writes, "Unfortunately despite all efforts by you and promises to me by Daniel Liu (CCA's vice president) that we would receive the brokerage and trucking work, we have not apart from a one time deal to move 40 containers. I do not know why, I am disappointed but I have accepted it and moved on.
"I know that the interior Furniture and Fittings should begin arriving shortly and I would really wish to now establish a relationship between Baha Mar and Bahamas Cargo and Logistics Limited ("BCL") where all ports of entry can be advised that BCL is to collect the paperwork and clear shipments for Baha Mar. It is my hope that the relationship will continue when the hotel opens and we will again be the broker and trucker for this property as we were for so many years."
Mr Izmirlian forwarded the email from Mr Fitzgerald to Mr Sands indicating that the procurement department at Baha Mar should be made aware of BCL's capabilities. However, he warned that the business would have to be won on "cost and ability".
Mr Izmirlian's stance that these contracts should be awarded on merit could have contributed to the Government removing him as the developer of Baha Mar.
On Tuesday, Mr Fitzgerald responded to allegations of abuse of power and conflict of interest in The Punch, replying to questions as to whether any members of his family held contracts at Baha Mar by saying "As far as I'm concerned, I have no interest whatsoever in, no dealing with Baha Mar, none, zero."
Tribune Business has previously confirmed BCL's role at the $4.2 billion resort and revealed yesterday that BCL was a creditor when the project filed for Chapter 11 bankruptcy in June, 2015, under Mr Izmirlian.
On July 7, 2013, Mr Fitzgerald emailed Mr Izmirlian to update him on his father's health and check on brokerage arrangements. "Firstly my dad is now back home from hospital in Florida and doing well. He still requires 24 hr care by trained nurses which is costing 15k per month and meds another 5k," he wrote.
"Secondly, I really need to know when we can expect to begin work for the brokerage and trucking of the furniture fixture and fittings. Also if the other hotel brands are doing their own hotels then I would like their contact person and number and a recommendation from you.
I know all of this should begin to happen soon and I am a little concerned that we have not heard anything yet. Sarkis this is one of those matters which will require your personal intervention. I will be eternally grateful."
These and other emails raise questions surrounding the Government's motives in battling Mr Izmirlian and the Christie administration's strenuous efforts in fighting the developer's Chapter 11 filing almost two years ago. That filing in the Delaware courts could have exposed the true ownership of businesses and contracts being held by Government ministers and/or their agents with China State Construction, who would have been forced to provide proof of ownership in said companies to receive payment for sums owed at the time of the Chapter 11 filing.
At that time, the Government through Prime Minister Perry Christie, argued its case in blocking the Chapter 11 proceedings on "national sovereignty", claiming that as the main asset of the resort was based in the Bahamas, the court proceedings should be held here, as opposed to in a United States court. As a result of the Government's efforts, the case in the United States was eventually thrown out.
Had the Chapter 11 reorganisation been allowed to proceed, Mr Fitzgerald and any other minister with contracts or interests with the Chinese entities would have been forced to declare their interest to be paid what was owed to their companies at the time of filing, thus exposing themselves before the Bahamian people.
According to The Tribune's records, at the time of Baha Mar's Chapter 11 filing, BCL was listed as one of CCA's local creditors, with its headquarters being registered at 138, Wulff Road.
As the lead Government minister on the negotiations for the sale of the Baha Mar resort, Mr Fitzgerald's past attempts at contracts and payments from Baha Mar now taints his and the Government's motives in securing a new purchaser for the resort, as Mr Izmirlian's superior offers to purchase the property continued to go unanswered last year.
In September, 2016, Mr Fitzgerald said that Mr Izmirlian was "all talk" with regards to his open offer to the Export Import Bank of China (EXIM), to pay more than any other purchaser for the property. Mr Izmirlian also offered to utilise only Bahamian labour for the completion of the resort, and commit to a quick opening schedule to get the resort up and running in the shortest possible time.
Mr Fitzgerald was quoted in The Nassau Guardian in September, 2016, stating, "the Government of the Bahamas is not working on words when it comes to this matter. We are working on money, where it is located, where we can specify it and where we can see it. Unfortunately, Mr Izmirlian has never, ever done that. Never."
Given the context of Mr Fitzgerald's previous position with the developer and the project and his requests for services dating back as far as 2013 and Mr Izmirlian's apparent refusal to award contracts to Mr Fitzgerald unless they were the lowest cost provider, his words take on a different picture.
The Government, at that time, did not advance Mr Izmirlian's offer or promote it with the EXIM bank. As a result, a deal was made in secret with the Hong Kong-based Cheng family, through their Chow Tai Fook Enterprises business, the details of which have been sealed before the Supreme Court. As far as the public has been made aware, no Stamp Tax, Value Added Tax, casino license fees, work permit fees or business license fees will be paid on the resort, with the bulk of the $600million cost to complete the project again going to CCA and Chinese labour.
Beyond Mr Fitzgerald's motives also lies the question of the involvement of the Prime Minister, and what, if anything, did he know of Fitzgerald's private business interest in the resort and when did he know it.

Repeated requests for details surrounding the alleged sale of the resort to the Cheng family will likely intensify given the exposure of the Government's lead negotiator for the sale.
Free National Movement leader Dr Hubert Minnis has been joined by Democratic National Alliance leader Branville McCartney among a growing list of voices calling for a commission of inquiry into Baha Mar, and a reversal of any deal that was not in the best interest of the Bahamian people. Dr Minnis in recent days has also called for the tabling of all side agreements made by the Government with Chow Tai Fook and the Cheng family.
A request for comment from Mr Izmirlian's Granite Venture entity was not responded to before press time last night.