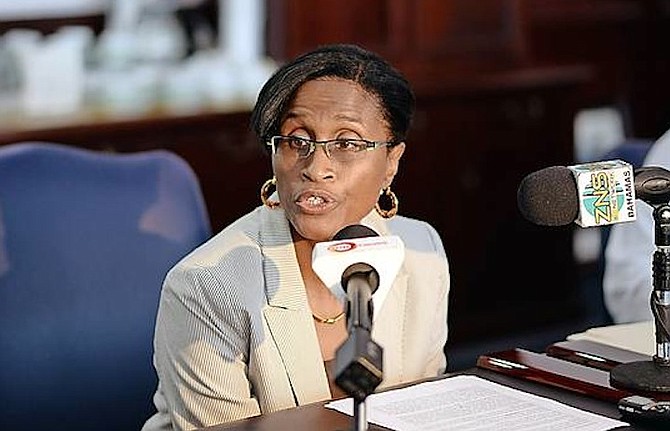 By NICO SCAVELLA
Tribune Staff Reporter
nscavella@tribunemedia.net
BAHAMAS Power & Light CEO Pamela Hill yesterday defended the company's $1.1m performance bonus under the former Christie administration, pointing to "step by step improvements" and "higher reliability" of BPL's services as justification for the controversial incentive.
Ms Hill, in an interview with reporters, suggested although the million-dollar bonus does seem like a "strange animal" considering BPL's ongoing struggles to consistently keep the lights on, the utility provider has "worked to make sure that there have been improvements in the company over the past year."
Ms Hill acknowledged that while the company has been experiencing "some maintenance issues" lately, which have affected multiple islands in the country inclusive of Abaco, Bimini, Exuma and New Providence, BPL officials are "working very diligently in order to be able to resolve them."
And when asked if she were concerned if the Minnis administration would not seek to renew PowerSecure's contract to manage the government-owned utility provider due to its performance to date, Ms Hill said: "We are not focused on any such thing."
She added: "My focus entirely is on the three things that I know our customers are focused on, and that's around improving the reliability, the affordability and the customer service aspect of our product. And everything else is really not core to our mission, to our mission here at the company."
When asked about the matter of the bonus yesterday, Ms Hill insisted that while none of BPL's issues will be resolved in an "overnight fashion," there have been "overall improvements" in BPL's reliability and efficiency to date.
She pointed to the acquisition of an additional 40 megawatts of rental power generation in New Providence and "new generation" on some Family Islands as initiatives that have "helped to improve our reliability."
"As we think about how generation works and the entire value proposition that our customers see when it comes to what it is that they're expecting, they expect reliability, they expect affordability, they expect customer services," she said, on the sidelines of a Rotary Club of East Nassau event.
"We have seen higher reliability. I know that's always tough to have something to compare it against because really the ultimate comparison is no outages, not anywhere, not anytime, not more than a second if they occur. And of course, we have outages that are longer than that. So by that metric it does seem as a strange animal, as it were.
"However, when we think about the overall improvements, the step by step improvements that have been made to the company, I think that the value proposition has been there for our customers and we look forward to having earnest dialogue around hard topics like rate adjustment so that we are able to pursue even more on behalf of our customers."
BPL has come under fire for its performance bonus of $1.1m under the last PLP regime, despite a widespread feeling of dissatisfaction amongst Bahamian consumers with the company's performance thus far.
Sources familiar with the initial talks between the former government and PowerSecure previously told Tribune Business that the latter's compensation for managing BPL had been capped at $5m per annum.
They added that $2m was guaranteed, with the remaining $3m contingent on the US energy services provider hitting a series of performance related goals, such as reliability, efficiency and profitability.
Since taking the helm, however, PowerSecure's efforts at restructuring the cash-strapped utility provider has been marred by island-wide power outages in the capital, and on some Family Islands. Light bills have also increased under PowerSecure's management.
As a result, both Deputy Prime Minister K Peter Turnquest and former Bahamas Electricity Corporation (BEC) Executive Chairman Leslie Miller have spoken out against the reported bonus, with the former calling it "inconsistent with the desire for improved results" in electricity service for Bahamian consumers.
Ms Hill also addressed the recent wave of power outages that have plagued several islands in the country, some of which have adversely affected the tourism product in those areas.
Recently, Exuma and Ragged Island MP Chester Cooper called the frequent power outages affecting Exuma an "untenable" situation that is frustrating both residents and visitors.
"…We are having some maintenance issues and working very diligently in order to be able to resolve them," she said. "Bimini and the issue that we had is essentially the submarine cable that services the customers that are in Alice Town as well as the Hilton resort. So we had our folks really working around the clock in order to diagnose the problem, to identify precisely where along the cable the fault was occurring, to bring in the necessary materials and then to make the repairs.
"So that's something that we are keenly aware of and focused on. Around Exuma and Abaco the outages have been not related to the submarine side since that is not as much an issue there, but really around the major maintenance of the units and the need for making improvements in how those are essentially structured.
"And so we are working diligently as we have those outages sometimes they're related to a car that's hit a pole, other times they're related to a (transmission and distribution) outage that triggers the generator to trip. But we have our folks in Nassau who have been flying over to Abaco as well as to the Exumas to lend support."
In March, Ms Hill expressed optimism that the company will be able to meet generation demands heading into the summer peak season. At the time, Ms Hill said she felt "very good about the level of work that our employees have conducted and our ability to be ready for the summer."