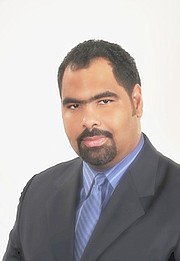 By AVA TURNQUEST
Tribune Chief Reporter
aturnquest@tribunemeda.net
THE CHINESE government's reported crackdown on "irrational" overseas investments may affect projects in the Bahamas with new restrictions on such projects in property, hotel and entertainment and a ban on gambling investments.
Bahamas Institute of Chartered Accountants (BICA) President-elect Gowon Bowe told The Tribune that while it was important to distinguish between the Chinese state and capital markets in Hong Kong, which has its own independent stock exchange, the recent codification of its policy highlights the critical need for the Bahamas to strengthen its own economic planning unit.
Baha Mar buyer Chow Tai Fook Enterprises (CTFE) and Grand Bahama port developer Hutchison Whampoa (HW) are on the Hong Kong stock exchange, and the Grand Lucayan - currently up for sale - is owned by HW's real estate arm Cheung Kong Property Holdings.
However, The Pointe is owned by China Construction America (CCA), a subsidiary of China State Construction and Engineering Company (CSCEC). China Harbour Engineering Company is also developing a port in North Abaco.
Mr Bowe said: "While China has significant influence over Hong Kong, Hong Kong has capital markets, effectively it has a stock exchange and the stock exchange doesn't have restrictions on who can invest in it. While there is the notion of influence from China, (the Hong Kong stock exchange) is more free market economy as opposed to communist.
"But China itself has a tremendous amount of capital, it still controls its currency, and its investment policy, and controls what companies can and cannot do."
Mr Bowe, former Chamber of Commerce president, explained that the restrictions reinforce shifts taken by the Chinese government to push its Belt and Road Policy, a transition in investment agenda that focuses on projects that increase trade with long-term sustainability.
His comments were supported by US news agency Bloomberg, which reported that the National Development and Reform Commission, the top economic planning body, has criticised "irrational" overseas investment in some sectors, while encouraging projects linked to the Belt and Road initiative. The NDRC reportedly cited problems with overseas investments, adding that some companies made rash decisions and sustained losses.
In a statement on Friday, China's State Council announced a ban on investments in core military technology, gambling, sex industry, and investments contrary to national security.
Investments in property, hotel, film, entertainment, sports, obsolete equipment are restricted, along with investments that contravene environmental standards.
Investments that further the Belt and Road framework, enhance China's technical standards, research and development, oil and mining exploration, agriculture and fishing are encouraged.
According to Bloomberg, "China's outbound investment slumped 44.3 per cent in the first seven months from a year earlier as policy makers imposed brakes on companies' foreign acquisition following a record spending spree in 2016."
"The One Belt, One Road policy centred on trade," Mr Bowe said, "looking at China's investment in other countries and investing in projects that would have the ability to actually increase trade. So the building of transshipment ports, roads, to increase the trading economy. Their focus on investment has moved to what they termed long-term sustainable type initiatives."
He continued: "The (Bahamas) government has to strengthen its own economic planning unit to develop land policies, investment concession policy, and then overall investment policy to say what the government wants investment in.
"So we can fight fire with fire," Mr Bowe said, "by having technically competent or experienced individuals directly employed or through consultancy, using the great minds in the Bahamas that have already done it. So that any government-owned enterprise or influenced enterprise is treated no different than a private investor. Where we analyse sovereignty, and our ability to regulate the investment."
He said the country has taken for granted that good foreign direct investment projects like Atlantis and Baker's Bay remain in our collective memories longer than negative outcomes like the failed Ginn sur Mer project in West End, Grand Bahama and the shuttered South Ocean resort.
Last month, Bloomberg reported on an escalated clamp down by the Chinese government on overseas investments, citing pressures on Anbang Insurance Group Co to sell the Waldorf Astoria hotel in New York.
The Chinese insurer's 2014 purchase of the iconic property for $1.95 billion signified the global rise of China Inc, jumpstarting an historic acquisition spree. Bloomberg reports that the landmark New York hotel now stands to symbolise "corporate China's rapidly shrinking global ambitions."
Concerns have been raised over whether CTFE will also face state pressures given that the Baha Mar asset will be held by China Export Import Bank until mid-2018.
Yesterday, Mr Bowe advocated for the shift in the Bahamas government's agenda from investor to facilitator and regulator, and a concrete investment identity for the country.
"Too often we've had bespoke negations, where every single investor comes and sits down with a new playbook," Mr Bowe said.
"What do we want the identity of the Bahamas to be? What do we want to give up to develop that identity (concessions), and how do we obtain the technical expertise to ensure what we get back is what we intended when we gave it up?"