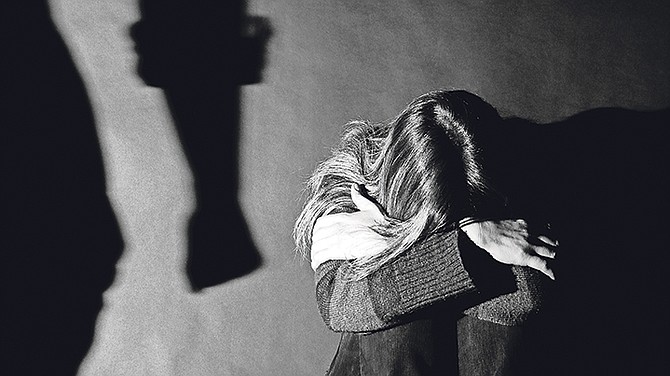 By JEFFARAH GIBSON
Tribune Features Writer
jgibson@tribunemedia.net
In April 2011, a 42-year-old Bahamian woman was "chopped" to death by her lover, now serving a 57-year sentence at Her Majesty's Prison, with a cutlass that bore the message "this what cheaters get".
It was noted that the woman's lover felt justified in his actions because he invested $1 million into their relationship and left his wife for her.
This is only one of several incidents of domestic violence in the Bahamas that ended in death.
And it brings to light what is always at the root of violent behaviour - the need to exert control over another person, according to clinical psychologist Dr Harry Ferere.
Dr Ferere, who hails from the Ivory Coast, Africa, has studied domestic violence for decades, with a special focus on the behaviour of batterers. He introduced a programme specifically for men who have been violent in the Bahamas in 1993 to help them change their behaviour.
The programme, Dr Ferere told Tribune Woman, addressees the underlying issue exhibited in the actions of the perpetrators.
He said these men attempt to gain power through external means and by being violent towards another person.
Dr Ferere was trained at Nova University in the United States, where he worked to treat batterers.
"It turned out that I knew what I was doing and people got better," he said.
"When I came in to the Bahamas in 1992, the major entity at the time was the Women's Crisis Centre (now the Crisis Centre). Most of their focus was on the recipients of abuse. There was little focus on the one who was the major perpetrator. Since I had done the training it made sense to bring the same training here."
The Cognitive Behavioural Programme is sponsored by the Catholic Archdiocese, with weekly meetings on Mondays from 6pm to 7.30pm. During the 26-week programme, participants are taught various skills that they apply to their lives.
"The first thing they learn is about themselves. They learn what their body is telling them, they learn about their emotions, they learn to label their emotions, that's the first thing. The need to learn about emotionality," he said.
"All of this is important, because a lot of time when the abuse takes place it is at the end of a long line of emotion - fear, insecurity - and if you can intervene before you get to that point of explosion you don't have to go down that road.
Teach
"Then they talk about what happens to them and you teach them words that describe what they are feeling.
"The second part that takes place is the thinking and how they understand themselves in the world."
Dr Ferere said the programme teaches participants a different way of thinking.
"They can always go to their old way of thinking if they want.
"But what happens as a result of thinking different, they understand that they have control and can actually put energy into the things they have control over," he said.
A common view batterers hold is that the world is controlling them, so they in turn have to control the world.
"So when you say to them, 'The world is not controlling you. You have control over the world, you don't have to control the person', you escape the violence'," Dr Ferere explained.
"Violence is a power and control thing. So if you teach someone to have control and power that has nothing to do with someone else, they can change."
Men who have participated in the group range from ages 19 to late 50s. Many of them are referred through the court probation programme, the Crisis Centre, lawyers and priests, or find out about it through word of mouth.
Effective
Dr Ferere said the programme is effective as it has a 80 to 90 per cent success rate.
"Their lives give (us the) opportunity for application and it is how success is measured. When they leave the group we talk about what they do in their daily life, what they do when they are with their families and when they are with their children.
"They talk about circumstances and they talk about how they practice these skills and how it works," he said.
"People who graduate from the programme are generally much better off than they were when they first started."
Dr Ferere said they do see men who 'relapse' in their violent behaviour, but in most cases they return to the programme before the situation escalates.
"We do have people who come back for what we call a 'tune-up'. They come for about three sessions to refresh themselves of the skills they learned before," he said.