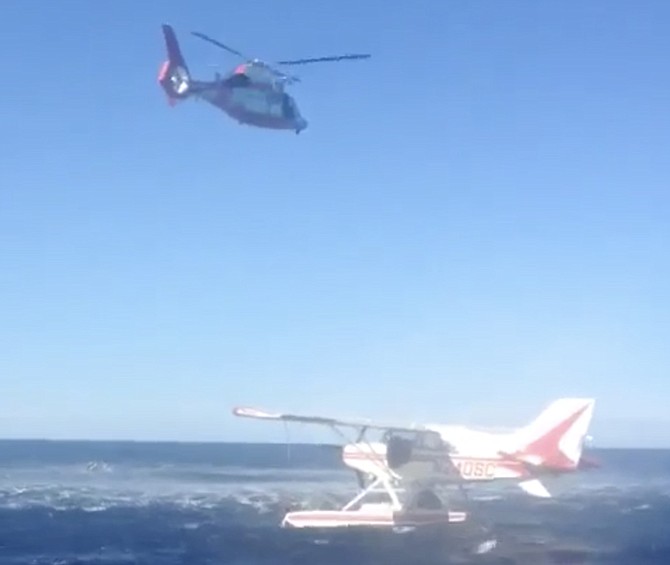 By Denise Maycock
ONE person was rescued and a search is underway for a man missing at sea following a plane crash in waters off West End, Grand Bahama on Thursday morning.
The female survivor, who was pulled to safety in a basket harness by a US Coast Guard helicopter, was flown into Freeport, transported to the Rand Memorial Hospital and then flown to the United States for further treatment. A senior police official said the survivor was "incoherent" and unable to speak with authorities.
The aircraft, which is believed to be a private plane, with two persons aboard went down around 11.42am some eight miles off West End, police reported.
Police were alerted by Air Traffic Control that a blue and white single engine aircraft coming from the United States had crash landed off West End. Police officers along with the US Coast Guard and the Marine Section of the Department of Customs responded to the scene of the reported crash.
Supt Noel Curry, officer in charge of West End Division, said officials have searched the area but were unable to locate the aircraft or spot any debris from the wreckage in the water.
The aircraft left the United States, but Bahamian authorities do not know the plane's intended destination.
"We located a seacraft which is not the aircraft in question and saw a lone female survivor aboard that seacraft," Supt Curry told reporters.
"She was assisted by the US Coast Guard to Grand Bahama International Airport to seek further medical attention," he said.
"We searched the area, along with the USCG. However we have not located the area we can assign as a crash site, so we are still conducting investigations."
He said they believe the crash might have occurred some eight miles off West End. A video of the actual helicopter rescue was circulated on social media.
"We believe there were two persons on board - a female and a male. They were en route from the United States to a destination in the Bahamas which we have yet to confirm," Supt Curry added.
"At this time we cannot say where the location of the crash is because there is no debris field. Only what we have in terms of take-off of a small aircraft," Supt Curry said, who did not know the actual depth of the water where the plane went down.
"When we found her, she appeared incoherent after the traumatic event. We did not get a chance to have a dialogue with her … but we will follow up with her."
Supt Curry thanked the residents in the area who assisted them in getting them by boat to the rescue site.