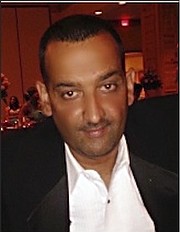 By INIGO 'NAUGHTY' ZENICAZELAYA
THE JOHNSONS -
Ah, our 'Climate Change Refugees' the Johnsons.
More great international exposure for the Bahamas.
From the suspect 'Go Fund Me' account, to living in terror in fear of hurricanes.
A single stranded son left behind to fend for himself, because they couldn't afford to bring him along, to camping out in the Toronto International Airport looking "dusty" at best. The Johnsons made the 242 go viral for all the wrong reasons.
But wait there's more, just as I predicted on my various platforms, as soon as they get a taste of that merciless Canadian winter they would be on the first thing smoking back to Nassau.
Thanks to the Johnsons for making me look genius again, they returned home to Nassau last week, right in time for Christmas.
FRED SMITH -
As far as hot streaks go, QC Fred Smith is in the zone. Let's follow the time line of events.
i. Smith released a video, pre election bragging of his funding of the opposition FNM party.
Simply to rid the nation of, in his opinion, "the scourge" against democracy in The Bahamas, the PLP.
ii. Smith releases another video post election reminding the PLP of his campaign contributions to the FNM.
Calling it "money well spent".
iii. Smith continues to eviscerate newly installed PLP Chairman Fred Mitchell, every chance he gets.
Even branding Mitchell as "the anti Christ of democracy" in the nation.
iv. Smith challenges PM Minnis and his Cabinet to a debate on several issues of national importance.
v. Smith takes on Brent Symonett and the Immigration Department regarding the human rights, and detention of foreign nationals, here legally and illegally.
(Latest from the courts, Smith and Rights Bahamas seem to be winning this one to.)
Fred Smith is 5 for 5, those are All Star numbers at any level.
PERRY'S SALUTE -
He must have had a premonition of things to come, because former PM Perry Christie played his "Jungaliss" card during a pre election address, actually giving the "bird" when reminded of comments made by political actavist Omar Archer Sr.
Unfortunately for the PM that "birdie" came back home to roost, as the nation gave their own 'Perry Salute' to the now former PM at the polls on election day.
FNM'S DOUBLE TALK -
If you were a member of the voting populace and a part of the last election process, you can only be dumbfounded by the post-election performance of the new administration and its failure to deliver on numerous campaign promises.
(The FNM will send alleged corrupt individuals before the courts, jail remains to be seen.)
The complete one hundred and eighty degree turn post election on BahaMar, 'The Spy Bill,' NIA, FOIA, VAT exemption, immigration, crime, unemployment etc, has left citizens, dubious in regards to this administration and their plans to say the least.
BLAMING BASIL/ JUNKANOO JUDGING -
Let's be honest, Junkanoo in The Bahamas mirrors a bad reality tv series.
Every December, the plot thickens, with the NJC finding new ways to butcher the beloved annual event, leaving new conspiracy theories about political affiliations, judging, scoring and costumes.
This year, there is no "Shuffling Perry" to blame.
Enter Chief Meteorologist Basil Dean. Yes, when he's off, he's off. However, he's been right way more often, thus earning him high praise from his peers internationally, including the Weather Channel and award-winning meteorologist Brian Norcross.
No I haven't forgoten Irma, but I clearly recall Basil announcing the all clear on national media outlets, as well as social media, well in advance, that the previously reported weather system threatening the parade, had decipated. It was "all clear" for the Boxing Day Junkanoo parade.
So with all due respect, Basil is not the blame here, he deserves to be cut some slack.
Who needs to be questioned, Spanish Inquisition style, are the judges.
One of them needs to explain how a parade, clearly between the Saxons and One Family for the overall title, was actually won by the Roots, who were viewed as a non-factor by those in attendance.
How much Christmas Spirits did the judges down?
Clearly they were watching a totally different parade than the rest of us!
(So much for objectivity. Saxons in ya belly.)
Happy New Year everybody, all the best in 2018.