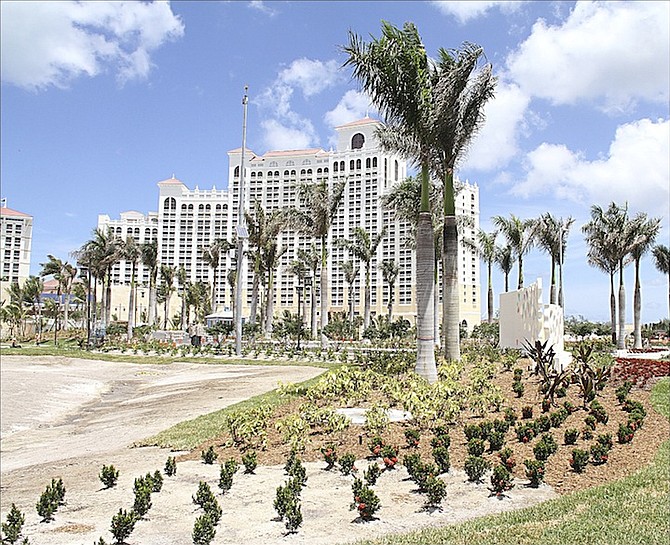 By RICARDO WELLS
Tribune Staff Reporter
rwells@tribunemedia.net
BAHA Mar has received more than 11,000 applications for employment as progress is being made with the hiring process, with the company's new Vice President of Human Resources Kristy Cowper yesterday expressing "excitement" with applicant turnout in the weeks since the once stalled hotel property resumed activities last month.
IMs Cowper, who was promoted from the position of director of recruitment and human resources administration, told The Tribune that roughly 600 interested in hotel positions and 200 vying for casino vacancies have progressed to the final stages of the resort's interview process.
She detailed her office's relentless pursuit of the "best and most necessary talent" to service the resort, which is projected for an April 21 soft opening.
Ms Cowper said the resort has received 11,500 applications and a "promising" response from hundreds of former employees.
She also acknowledged the positive aspects provided by the resort's association with governmental and independent agencies such as the National Training Agency (NTA), which provided the resort with a direct link to about 270 applicants, of which 100 have progressed to the second and third levels of the interview process.
"We are progressing in spots that we need to and are making strides in areas that have treated us well in the past," said Ms Cowper. "Every single day we are working our channels to ensure that the persons we are bring onboard are persons capable and able.
"We had a large percentage of former employees that were well-versed in what we intended to do here, and while we are, for lack of a better phrase, a new company, the goals still remain the same about how we look at future employees."
She added: "We reached out to those former employees; it was done so with the view that they were not only aware of efforts, but more so, that they were already trained to some level and excited to be a part of what we are building here.
"In many instances, these persons had completed three to five levels of interviews, signed contracts and were ready to go - it was necessary to reach out to those persons because of affiliation.
"But that was only the first step in one half of our efforts. We gave the same attention to going out there and finding new applicants."
Ms Cowper, referring to the resort's past hardship, said she firmly understands that there continues to be a public battle that has to be fought to change the perception that potential employees have of the resort.
Despite this however, she said the resort has made it a point to not only continue their pursuit of new applicants, but go beyond the norm to convince these potential applicants that a future at Baha Mar would be a viable one.
"We continue to reach out. It is a bit tricky with new applicants, but we are sure that our strategy is working. We started our Blue Mixer event last week, which places potential employees in a social setting with department and resort heads, allowing us to quickly find those that are truly interested in the Baha Mar brand.
"It's initiatives like this, we feel are making the difference as we progress toward our opening date," she added.
Last year, Prime Minister Perry Christie announced that the resort was sold to Hong Kong conglomerate Chow Tai Fook Enterprises (CTFE). However it has since been revealed that the sale of the resort has not been completed.
In December, Mr Christie said CTFE "is arranging for operation by the Grand Hyatt of the casino and convention hotels and of other properties by SLS and Rosewood, all internationally renowned brands, beginning with a phased opening in the second quarter of 2017.
CTFE is projected to invest $200 million in "pre-opening festivities, development of family amenities, entertainment and offshore island facilities and demolition and redevelopment of the former Crystal Palace Hotel," Mr Christie said.