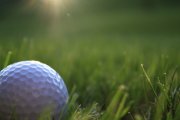 By BRENT STUBBS
Senior Sports Reporter
bstubbs@tribunemedia.net
WITH the developments taking place in so many sports within our school system, Fourteen Clubs Golf Academy coach Marcus Pratt feels now is the best time to get golf to make its impact.
Pratt, representing club director Georgette Rolle, said while they have gotten their foot into the doors of the public primary schools, they are hoping to broaden their horizon to include more schools across the spectrum.
"We're going to take this nationwide, we're going to take this into all schools and all year round," Pratt said yesterday during a press conference at the Ministry of Education, Science and Technology where they received a grant from the Government of the Bahamas.
"Just like how basketball became the quote and quote real thing in high schools and track and field, golf is the next thing that needs to happen in schools so that the young people might have a different mind set about this sport, which used to be a rich man sport, but is still a local man sport."
Through the high school programme, Pratt said young people could get involved in something new.
Eva Hilton, TG Glover and Yellow Elder are the three primary schools that are currently involved, but Pratt said Fourteen Club is already in some of the private schools, but their goal is to get into all schools.
"Initially what we do is we go into the schools, run the programme on a hourly basis, then the whole thing moves on from there to the golf range and par-three nine-hole golf course that will be opened sometime this year at the QE Sports Center," Pratt stressed.
All schools wishing to take advantage of the programme should be aware that all of the sessions are free and all of the students will be provided the necessary equipment to assist in their development.
Lionel Sands, the Director of Education at the ministry, expressed their gratitude to the Fourteenth Golf Club for the intuition of golf in the primary schools.
"Special commendation is extended to Ms Georgette Rolle of Fourteen Club Academy and Mrs Eula Bethel of McDonalds and Mr Ed Fields of Atlantis. These are so critical to us, especially with our young people in our schools," Sands said.
Sands said the ministry would not only continue this year, but they intend to make it an annual affair.
McDonalds, through Dan Brad Limited, has come on board as a sponsor and Shanendon Cartwright, their Marketing Manager, said since they first arrived in the Bahamas in 1975, they have pride themselves of assisting the young people of the Bahamas and the Fourteen Golf Club.
"For Dan Brad Limited, we believe that the single greatest contribution to national development is investing in the young people of the Commonwealth of the Bahamas," he insisted. "And so we are thoroughly excited about the opportunities that it will bring for the hundreds of students impacted by Fourteen Club.
"As a former athlete myself, I fully appreciate the role of sports in an athlete's life. It's not just about developing athletic ability, but developing citizens of the Commonwealth of the Bahamas. Of course there are a number of issues in our country that need to be addressed, but we are so happy that Dan Brad Limited in our capacity as a corporate citizen, can do our part."
Cartwright said they look forward to the long time efforts that Fourteen Club will impact and they look forward to working with the organization and the Ministry of Education.
In helping to diversify the Bahamian sporting community, Cartwright said since a lot of Bahamians have not been exposed to golf, they were delighted to join on board and lend their support to Rolle and the Fourteen Golf Club.