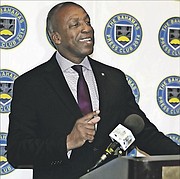 By AVA TURNQUEST
Tribune Chief Reporter
aturnquest@tribunemedia.net
PROGRESSIVE Liberal Party leadership contender Alfred Sears, QC, yesterday expressed confidence in his ability to mount a "quiet revolution" at the party's upcoming convention to unseat incumbent leader and Prime Minister Perry Christie, despite recent "acts of desperation".
Acknowledging that party optics put him at a disadvantage, Mr Sears explained that while his leadership platform resonated well with many supporters, they were not vocal due to fears of victimisation and reprisal.
He pointed to the mass-ratification exercise staged by the party last week, and said hundreds of stalwart councillors have been appointed just before the three-day event, where he plans to challenge Mr Christie for leadership of the party.
Scores of supporters filled the grounds of the party's headquarters last Thursday for the ratification of 16 candidates – the majority of whom were senior incumbent MPs, including Mr Christie. On stage, those candidates all expressed their full support of Mr Christie as party leader, and his return as prime minister for another term.
However, Mr Sears insisted that "God is still in control," adding that he believed in the fairness and sense of justice of PLP delegates, stalwarts and supporters, and their ability to assess tactics critically.
"It is an act of desperation," he said. "It is an act of desperation which is being witnessed by the entire Commonwealth of the Bahamas. That on the eve of a convention, one which ought to have taken place each year, which has not taken place for eight years, that on the eve of this convention you would have the appointment of stalwart councillors, hundreds of stalwart councillors.
Mr Sears said: "But I believe in the fairness in the sense of justice of the people who comprise this party, that the stalwarts the delegates will see it for what it is and that is why I see myself as David where the opponent appears to have every single advantage, but God is still in control."
Mr Sears spoke to The Tribune on the sidelines of the party's prayer breakfast to mark the start of its 52nd national general convention, under the theme "He'll do it again".
The PLP has not held a convention since 2009, and Mr Sears has maintained that the party's best chances of re-election are with him at its helm. He rebuffed previous suggestions that a leadership change would have a destabilising effect on the party so close to a general election.
However, PLP Deputy Leader Philip Davis yesterday said he did not expect to see a change of leadership at the end of this week's events.
"I don't see any new leader emerging from this convention," Mr Davis said. "I think that it is good that we can all gather all together in one place in conclave to chart the course for the next five years because this is not just a convention to elect leaders but also to set the course for the general election and to craft our plans for the next five years.
"I'm satisfied that we have been re-energised at the end of the day . . . this is about the PLP, it's not about any individual and we will stay together."
The PLP's convention begins Tuesday and continues until Thursday, January 26.
Reflecting on his "listening tour" to ten Family Islands over the past two months, Mr Sears also underscored that there was widespread "disquiet" throughout the country over the state of affairs and its unsustainability.
"We cannot and should not continue to do the same thing with the consistent downgrades that we have," said Mr Sears, who charged that Family Island residents have become internal migrants in their search for a living wage.
"We need to better incentives Bahamians to realise that unfinished portion of the quiet revolution and that is the economic transformation, diversification of our country and most especially where Bahamians own the productive sectors of our country.
"That is not a position that is opposed to foreign investment," he said. "It is a position which recognises that sustainable development is only possible when there is a strong, robust national capital - which means that Bahamians must own it.
"Bahamians will be here in good times and bad times, the foreign investor is only here for comparative advantage so it is this disquiet that provides us with an opportunity to get back to the core values of the PLP."
Mr Sears added: "This is an historic convention because the Progressive Liberal Party has an opportunity to reframe itself to be more consistent with its core values, to be more attractive to younger Bahamians and to expand its base which will improve its chances of being re-elected and my leadership will offer that."