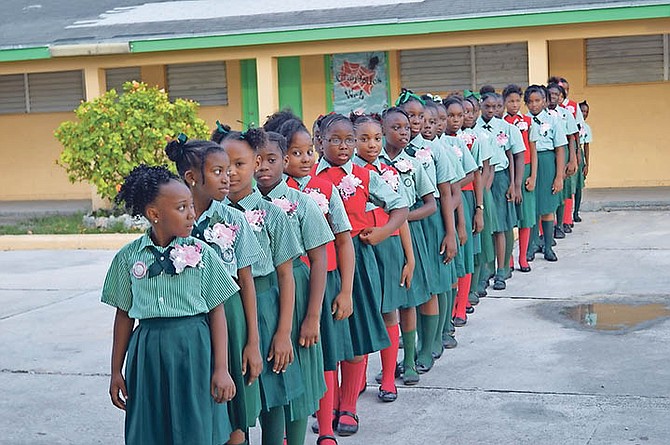 By JEFFARAH GIBSON
Tribune Features Writer
jgibson@tribunemedia.net
IT was an uplifting and inspiring occasion for the young members of a local girls organisation who were honoured during a special awards ceremony which promoted living with purpose.
The Purpose Driven Young Ladies Club (PDYLC) recently held its annual programme under the theme "Pursuing your Purpose with Perseverance" at the Sybil Strachan Primary School. The girls were encouraged to live a life of purpose by guest speaker Clothie Lockhart.
During the award ceremony each girl received a gold, silver or bronze medal, which corresponded with the amount of sessions completed. The night ended with the highly anticipated father-daughter dance. Guests described the occasion as a "sentimental and very touching" moment for all in attendance.
PDYLC was started by Florence Paul, a local playwright, poet, motivator and educator. She started her career in the field of education in 2005 after completing her Bachelor's degree in Primary Education at the then College of the Bahamas.
In January 2005, she was posted to Carmichael Primary School, now Sybil Strachan Primary, the home of the Mighty Warriors. Ms Paul has spent 12 years dedicating herself to her students and the overall success of her school. On December 21, she was chosen as Sybil Strachan's Primary Teacher of the Year 2017-2019.
The PDYLC was started on March 4, 2009 to address the needs of at-risk girls. During that time, Ms Paul was assisted by Dianne Williams, Crystal Wilson and Endiecia Newbold. The membership consisted of about 20 girls.
PDYLC aims to prepare young ladies to reach their fullest potential by teaching them practical life-long skills. Some of the skills taught are food handling, cooking, baking, ironing, washing, budgeting, conflict resolution, etiquette and hygiene. Additionally, the members are encouraged to be civic-minded, hence for the past two years they have made tangible contributions to Unity House, the Children's Emergency Hostel, and most recently, Great Commission Ministries.
Today, PDYLC strives to annually inspire, motivate and train about 40 girls from the grade six level.
"The aim of the club is to equip young ladies with the skills that will enable them to live a life of purpose, to empower young girls to develop an awareness of self-worth, provide practical experiences that will help young girls understand and function in their purpose, impact the wider community through donations and volunteer work and prepare young girls for an ever-changing world," said Ms Paul.
She said the various activities that the young ladies engage in help them to recognise their innate abilities and talents. Moreover, they instil a sense of self-worth.
"For instance, during the session on budgeting the girls had to budget $1,500, which initially seemed like a lot of money. However, after I enlightened them about the average rental fees, insurance fees and utility fees, the task seemed almost unattainable. This activity was an eye-opener for many of them as they were shocked to see how much money had to be allotted to monthly bills. In fact, a number of them found themselves cutting back on nonessential areas so as to achieve a saving goal of at least $300. This club is cultivating financially prudent young ladies. It starts now," she said.
Ms Paul said she hopes that the club will be able to offer more practical skills, field trips and exposure to guest speakers with an array of expertise in future.
"In fact, I would like to see the club develop into a national girls club. However, to achieve this goal the involvement of corporate Bahamas is vital," she said.