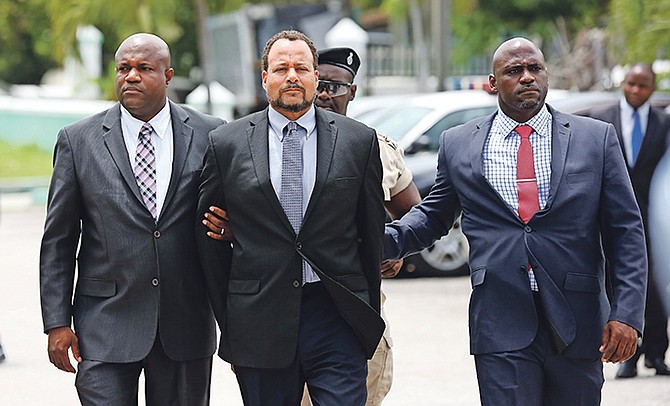 THE UPDATED VERSION OF THIS STORY CAN NOW BE READ HERE
UPDATE: Frank Smith appeared in court this morning charged with one count of bribery, one of attempted extortion and 13 counts of extortion. According to court documents, it is alleged that, in his capacity as a public servant, he solicited $5,000 per month from Barbara Hanna in procurement of a contract with the Public Hospital Authority. Mr Smith denied the allegations and will return to Magistrates Court on August 18th for a status hearing. He was remanded in custody but has the right to apply for bail in the Supreme Court.
More news to come . . .
FRANK Smith, the former chairman of the Public Hospitals Authority, was taken to court to face bribery and extortion charges yesterday only to learn nearly an hour after his scheduled arraignment officials were not ready to present his file to the court and his matter would be adjourned to today.
Lawyers for Mr Smith told The Tribune they were informed he would be arraigned on 12 charges, including one count of extortion, ten counts of bribery and one count of attempted bribery.
Mr Smith ended up spending a second night in police custody.
The move, which his attorney Damian Gomez called an "abuse" and unprecedented in his legal practice, added fuel to the concerns the Progressive Liberal Party (PLP) has over the way the corruption probes into PLP politicians have been conducted.
The lack of readiness of prosecutors, Mr Gomez believes, was an alleged attempt to prevent Mr Smith from getting bail before the weekend.
"That's not true," Attorney General Carl Bethel countered when contacted by The Tribune yesterday, though it is still unclear why the file was not ready even though Mr Smith's legal team and the media were told to be in place for his arraignment scheduled for around 2.30pm on Thursday.
"The file awaited is not fully prepared for presentation," police prosecutor Sgt Timmy Saunders told the court. When he said Mr Smith would be brought back to court at 12 noon today, Chief Magistrate Joyann Ferguson-Pratt demanded he be brought back earlier.
"I hope the police prosecutors and the investigators could hear me," the judge said. "I expect the suspect to be before me by 11 o'clock (Friday)."
When Mr Gomez asked her about police bail, Mrs Ferguson-Pratt said given the circumstances, bail does not arise before her.
"I have no idea what the contemplation of the prosecution is in this matter," she said.

The Tribune understands that a Supreme Court justice was ready to consider Mr Smith's bail application yesterday afternoon had he been arraigned and charged.
Nonetheless, Mrs Ferguson-Pratt was also concerned Mr Smith had had no lunch by the time of his scheduled arraignment.
She demanded he be allowed to have his family bring lunch to him before he left the Nassau Street court, a courtesy she said she has extended to many others before.
Outside court Mr Gomez said: "The abuse of Frank Smith has now taken a really serious turn. The law requires the police, as soon as they have reason to charge someone, to bring them before the Magistrate's Court as soon as possible. We were told at about 1.30 that we were to attend court for about 2pm. I have been sitting waiting. At 3.30pm we were told there is no file, that one is being generated and it would take until sometime around 11am for that file to be available so the magistrate is able to perform her functions in the arraignment. So Mr Smith spends another night in custody. This is hideous and is unforgivable.
"In my practice, I've never seen this before," Mr Gomez added. "It's an attempt to prevent him from obtaining bail before the weekend. It could only be regarded as a most vicious attempt to take away the liberty of a person who has given public service in many ways and who is a professional."
Mr Gomez was told to go to the Central Detective Unit (CDU) yesterday morning for an arranged confrontation between him and the complainant in the matter, he said.
During the confrontation, the complainant would have given her side of the story and Mr Smith would have been allowed to respond, The Tribune was told.
However, Mr Gomez said the meeting was cancelled without explanation.
Mr Smith is a former PLP senator and member of Parliament.