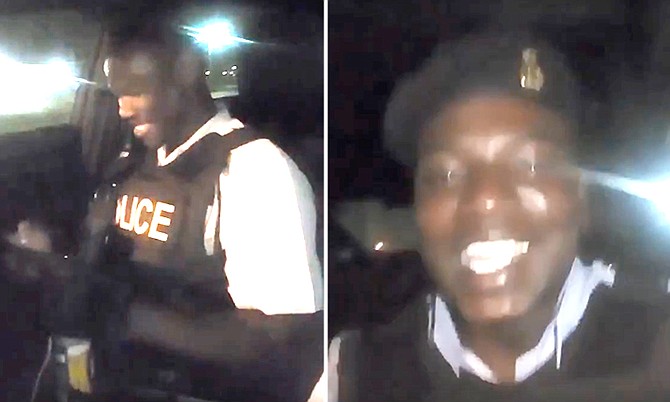 http://youtu.be/Cd6mbHYv-No
TWO officers caught on video riding in a police squad car, one holding a bottle of Kalik while they appeared to ignore a call from the Police Control Room, have been suspended, Senior Assistant Commissioner of Police Stephen Dean said yesterday.
In the video which went viral Saturday, the officers appeared to drive without seatbelts on and they ignored a call from the control room because as one said, they were "f getting drunk".
"Police wish to notify members of the public that disciplinary action has commenced against two police officers of the RBPF shown in a controversial video that recently went viral on social media," Senior ACP Dean said.
"At 11am this morning (Sunday) Commissioner Greenslade suspended both officers from duty and restricted their privileges. Both officers were given 14 days to show cause letters. This allows due process and natural justice. Police Commissioner Greenslade will make a final decision on both officers once he receivers their written responses in hand."
Over the weekend the video, which was viewed and shared thousands of times on Facebook, prompted widespread condemnation and calls for the men to be fired.
Key details, such as when the video was recorded, were not known up to press time. However, the video appeared to be recorded by the driver on his cellphone who said in the expletive laden recording: "Don't send this video out you know."
For many observers, the video and what it captures was the latest incident to cast some law enforcement officers in a negative light.
In recent weeks, several prison and defence force officers have been arrested and have faced drugs and weapons related charges before the courts.
On Saturday, Commissioner Greenslade, who is said to be on vacation, responded to a posting of the video on Twitter, saying: "This is being investigated as I text."
Meanwhile, a man on Facebook claimed the video was part of an "incomplete movie" he is creating. However when asked about this claim, police did not comment and referred The Tribune to the RBPF's earlier press release on the matter.
Commissioner Greenslade has, in the past, spoken about dismissing officers from the force.
Earlier this year he said during a press conference that he fired 13 police officers in 2016 for misconduct and betrayal of the public's trust.
"Again this year I had to send home what I call a significant number of rogue police officers, and I make no apologies for that," he said at the time. "Thirteen officers who were frauds in my view wore our uniform under false pretenses with criminal ideas, behaved in an unethical fashion, ceased to become efficient police officers and betrayed my trust and the public's trust."