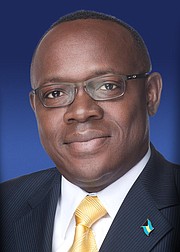 By RASHAD ROLLE
Tribune Staff Reporter
rrolle@tribunemedia.net
EXUMA MP Chester Cooper criticised the Minnis administration yesterday for producing a budget that gives tax breaks to big businesses and not smaller ones.
The Business License (Amendment) Bill 2017 would reduce taxes from 1.5 per cent to 1.25 per cent for businesses with a turnover exceeding $50m.
"I would imagine that the list of businesses that will benefit from this exemption is decidedly small and it would be very, very interesting to look at the list of businesses to examine who might be the beneficiaries of this tax break," Mr Cooper said.
"…If I am right, this implies that there goes another tax break for rich, big business who might be cozy with this 'people's time' government whilst there is no reduction for small and medium sized businesses who also employ people but struggle every day to keep their doors open. As is the case with most modern economies, small business account for as high as 70 per cent of jobs in the private sector and is considered the engine that drives organic economic growth."
Mr Cooper's comments came as he delivered his maiden speech in the House of Assembly.
Deputy Prime Minister and Minister of Finance K Peter Turnquest suggested that the tax breaks for big businesses sprung from an agreement the former administration had with Atlantis to reduce its taxes. However, former Deputy Prime Minister Philip "Brave" Davis said that agreement related exclusively to hotels as a way to make them more competitive with others in the region. The agreement would not have extended to businesses outside the tourism sector, he said.
Nonetheless, Mr Cooper also questioned whether someone in the governing party will benefit from a customs duty reduction on paint.
"In prior years, the government increased duty on bottled water to protect (the local) industry and jobs," he said. "A reduction on duty on paint by 20 per cent will potentially harm the local manufacturing industry resulting in job losses and adversely impacting lower income households…I want to know why? And who stands to benefit? Without suggesting anything untoward, before I vote on this budget, we would be grateful if the government would declare whether any members of this Cabinet has a substantial interest in a paint distribution who might stand to gain."
Mr Cooper, who has a background in business and is the former chairman of the Chamber of Commerce, criticised the government for making tax related promises without, he suggested, examining the impact such changes would have.
As an example, in the lead-up to the general election, Prime Minister Dr Hubert Minnis said the FNM will "immediately" repeal value added tax (VAT) on breadbasket items, and also pledged to remove the tax from other areas.
The new administration has since said its plans for tax reform cannot be implemented in the short-term due to the state of the economy inherited from the Christie administration.
"A system with limited exemptions enables a more efficient tax scheme," Mr Cooper said. "We've been through this over and over again. It's too late to be playing catch up on how VAT works. Varying rates and/or exemptions, would require system amendments and increases the complexity of the tax collection and filing process, which is already a sore point for the business community. A change will likely impact the level of system related costs and compliance rates experienced with VAT. Fewer exemptions and more elimination/reductions of customs duties might be the way to go to create a more comprehensive VAT.
"I ask, who analysed this campaign promise? They would have had access to the great body of work by the chamber and its Oxford economists, the IMF, the IDB and the Compass Lexecon (US consultants engaged directly by the government) and others who rely on empirical analysis. Should the government start tinkering where it should not, I foreshadow that it would likely result in the increase of VAT to as high as 15 per cent. We must not inflict this injustice on the Bahamian people."
Mr Cooper touched on a theme the Progressive Liberal Party (PLP) has embraced, accusing Mr Turnquest's budget communication of being inappropriately political and dour on the country's financial situation.
He cited recent statements by Moody's expressing alarm that the country's debt levels will be the "highest for an emerging market sovereign rated BAA" as an example of the consequence of such statements.
"It's the wrong speech at the wrong time in the wrong place," Mr Cooper said. "We have come to appreciate careful deliberations in this important communication so as not to talk down or undermine the economy.
"I wonder whether this is the speech we will take with us when we go to defend the international rating of the Bahamas? Is this the one that we will take to the debt market? You don't tell me you're broke, you busted, you unemployed and the 'cupboard is bare' then ask me to borrow $722m."