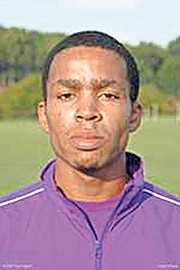 By BRENT STUBBS
Senior Sports Reporter
bstubbs@tribunemedia.net
WHILE he has abandoned his plans to continue to run the distance races on the track because of a lack of support, Oneil Williams has now set his sights on competing in the half and full marathon.
On his return from a three-month training session in Kenya, 34-year-old Williams travelled to Stockholm, Sweden, where he participated in the 2017 Asics Stockholm Marathon on Saturday, June 3.
"I only had three and-a-half months to prepare for the marathon, which you need six months to a year to get fully prepared for a marathon," Williams said. "I was on national record pace until I hit the 40k (kilometre mark) and then I hit the wall."
He was timed in two hours, nine minutes and 24 seconds up to that point, but was unable to finish the gruelling 26.2 mile race.
"It was pretty good. In the beginning I did some pretty good times," Williams said. "My first 5K was 16:32 and I hit the 10K in 33:25 and the half marathon at 1:12. I reached the 35K at 1:48 and when I hit the 40K, my body just shut down.
"For some reason, I didn't have enough time to prepare for it and the finance wasn't there for me to get in a 10K or a half marathon before I did my first marathon."
Williams, who did a 10K here before, said he decided to transition from track to running the marathon because of a lack of support.
"I'm not getting any support from the government nor the BAAA (Bahamas Association of Athletic Associations), so all of my travel expenses and everything is being supplied by my family, friends and persons in the community who want to see me succeed," Williams said.
"I wasn't getting any support, but then I realised the potential in getting some money if I ran a marathon to help subsidise my training. That was the reason why I switched. If I can get the support from the government, I definitely would try to qualify for the half marathon."
At this point in his training, Williams said he's in a 1:08 shape to run a half marathon with just three and-a-half months of preparation. To qualify for the World Half Marathon, Williams will have to run at least 1:06.
"Based on the half marathon to marathon running, I knocked off about six minutes already in my training," Williams said. "If I can get some support from the government, I would definitely go for the World Half Marathon qualifying."
The IAAF World Half Marathon Championships is scheduled for March 24, 2018 in Valencia, Spain. The qualifying standard is 1:06.00 between the qualifying period of April 23, 2017 to January 31, 2018.
"If I had more time to train, I definitely would have qualified for World Champs," Williams said. "I believe if I can get the financial support, I can accomplish the standard. "I feel good right now. I know I'm at a crossroad, but I am hoping something will work out for me. The last marathon runner we had out there was 20-30 years ago, so I'm hoping to change that."
Williams thanked those who assisted him up to this point, including Eve Dorsett, Sarah Kennedy, Dionisio D'Aguilar (his mentor) and Glen Bain, a fellow marathon runner, who were among a small group of supporters when he was in Kenya.