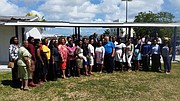 The Zonta Club of New Providence (ZCNP) has gotten an unprecedented amount of applications for its fourth annual workforce readiness programme dedicated to unemployed women, receiving nearly 100 submissions for the three-week job training initiative.
Starting yesterday, the ZCNP's skills-based workshop at the Bahamas Technical and Vocational Institute (BTVI) commenced with officials from the Ministry of Social Services and Community Development addressing the event hosted by the women's service organisation.
The launch was the start of a structured programme for the selected 30 participants that will culminate with two BTVI scholarships being awarded.
"Every year we try to improve on our programme to give women who may have had setbacks in life important tools to empower and to improve their lives and the lives of their families," said Zonta President Claudine Farquharson. "We host various sessions in this programme targeted towards equipping women with specific skills for each aspect of their lives that can help positively influence their economic status.
"This year we saw the largest amount of applicants try for this year's programme, so that shows us that women are not complacent with a lack of job opportunities and they believe that our programme is a good start for them changing the trajectory of their lives."
Last year's job training workshop ended with three scholarships granted to individuals, two for BTVI and one for nursing school. This year, the ZCNP is able to continue this benefit through the generosity of many partners, including the Island Luck Cares Foundation, Bahamas First, Baptists Health Hospital, Sunshine Group of Companies, Caribbean Bottling, and RBC Bahamas, as well as with the help of contributions stemming from purchases at Zonta's signature Rose Day and Wine Dinner events.
The participants in this year's workforce readiness programme will be exposed to a blended style of learning that will include practical and on-the-job training as well as formal presentations by industry experts.
Nightly presentations will range from Rev Angela Palacious' "Empowering Journey" to the Crisis Centre's "Stress and Addiction" and John Bull's "Makeover for a More Empowered You".
Some of the topics that will be covered during the programme are spirituality, leadership, work ethic and protocols, customer service training, conflict resolution, communication styles, resume writing, interviewing skills, dressing for success, office etiquette and decorum, social graces, legal issues (knowing your rights), and financial planning.
In addition to the professional development training, the participants will be given an opportunity to be introduced to a two-week training in Microsoft Office Suite, facilitated by the professionals at BTVI.
At the end of the workshop, the successful candidates will receive a certificate of completion from BTVI during the closing ceremonies. Additionally, scholarships will be given to the outstanding students to pursue tertiary studies.
The Zonta Club is the nation's leading organisation dedicated to improving the legal, political, economic, educational, health and professional status of women through service and advocacy.
Zonta was founded in 1919 and is an international global organisation of executives and professionals working together to advance the status of women worldwide. Zontians all over the world volunteer their time, talents and support to local and international service projects, as well as scholarship programmes aimed at fulfilling Zonta's mission and objectives.