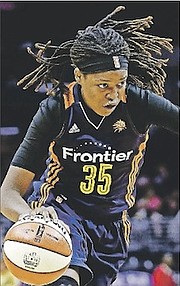 By RENALDO DORSETT
Tribune Sports Reporter
rdorsett@tribunemedia.net
JONQUEL Jones recorded her second consecutive double-double, but the Sun also suffered their second loss in a row and fell below .500 on the season.
Jones finished with 13 points and 17 rebounds in the Sun's 87-79 loss to the defending WNBA champion Los Angeles Sparks at the Mohegan Sun Arena Tuesday night.
Her rebound total included 10 offensive boards, a season-high mark for the second year forward.
The Sun were down by 19 and got to 68-61 early in the fourth, but could get no closer as Los Angeles scored the next eight points.
They look to recover and get back in the win column tonight as the franchise commemorates its 15th season in the WNBA.
The Sun will host the Seattle Storm tonight in a game that not only has special implications for the teams, but for individual players as well as the leading vote-getters in each conference in the WNBA All-Star ballots will be announced.
Jones is having an All-Star calibre season, averaging 15.3 points, a league-leading 12.1 rebounds and 1.3 blocks per game.
To vote for Jones, the Bahamian public can take to social media apps Facebook and Twitter and post "#WNBAVote Jonquel Jones" to officially vote for the Grand Bahamian native.
The WNBA will take a three-tier approach to All-Star Voting this year which will include media, WNBA players/coaches and fans. Fan voting, an all-digital programme, will conclude at 9pm on Thursday, July 6.
For the franchise, the 15th season will feature several means of commemorating the event.
Former players Katie Douglas and Nykesha Sales will answer questions at halftime and the team will distribute commemorative t-shirts with the names of the inaugural 2003 roster.
Sun President and CEO Mitchell Estes told the AP's Doug Feinberg that the team has stood out because of its prosperity on and off the court while becoming a model for independently owned franchises.
"We were the first non-NBA-owned team and we were the first to make money," said Etess, who is the team's president and CEO, in a phone interview with The Associated Press on Tuesday. "We knew it would be successful. We didn't go into it with any questions in our mind."
The Sun has turned a profit each of the past six seasons, impressive since the team has struggled a bit on the court lately, failing to make the playoffs since 2012.
The Sun made the playoffs in their inaugural season and made the WNBA Finals twice in the next two seasons, with losses both times.