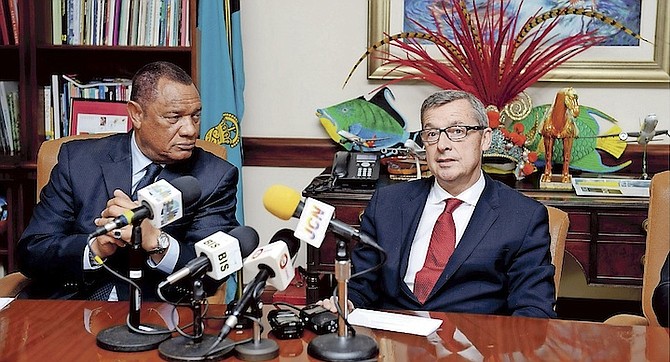 By KHRISNA VIRGIL
Deputy Chief Reporter
kvirgil@tribunemedia.net
A MAJOR international cruise line executive said yesterday he is "concerned" about crime levels in the country, stressing that "we want our guests to be very safe" in The Bahamas where more than 600 murders have been recorded under the Progressive Liberal Party this term.
Michael Bayley, president and chief executive officer of Royal Caribbean International (RCI), told The Tribune if customers do not feel safe visiting the country, they will no longer vacation here, adding that these concerns have been communicated to the government through the Florida Caribbean Cruise Association (FCCA).
There have been 32 murders so far in 2017, taking the murder toll in nearly five years under the Christie administration to 601, according to The Tribune's records.
Mr Bayley's remarks come two weeks after Baha Mar executive Graeme Davis, Chow Tai Fook Enterprises (CTFE) Bahamas president, suggested that if the Christie administration is unable to control crime, the country's tourism product could be headed in a negative direction.
Nonetheless, Mr Bayley said the cruise line, which brings around 1.7m visitors to the country each year, is committed to maintaining a concrete relationship with the country and plans to double visitor numbers over the next 10 years.
He made the comments on the sidelines of a heads of agreement signing between RCI and the government for a $40m fixed pier cruise port at Coco Cay, also known as Little Stirrup Cay in the Berry Islands.
During the signing, Prime Minister Perry Christie said the installation of the fixed pier will allow for additional safety of cruise ship passengers and employees on the cay, where they will be able to have direct access to the island instead of tendering boats.
He said Royal Caribbean will also carry out an expansion of the services offered at the cay by injecting $150m over a three-phased process. The pier is expected to lead these improvements.
"I think obviously everybody is concerned with regards to crime particularly as it relates to tourism," Mr Bayley told The Tribune at the Office of the Prime Minister. "We have a very strong relationship with the FCCA, which is the industry association that we're obviously participants with and the FCCA are constantly in discussion and dialogue with different governmental groups around the Caribbean with regards to any spike or changes that we see in crime trends.
"I think obviously we have been operating for many, many decades and we are kind of familiar with occasional spikes and when we see anything occurring we are in conversation with the governments in regards to actions either they are taking or planning on taking. So we're concerned.
"Obviously we want our guests and our customers to be very safe otherwise they won't come on vacation, but we don't see it as a major issue and we think that the right kind of attention and focus has been put into place."
He continued: "I always say 'it's better in the Bahamas' but I understand that has changed to 'it keeps getting better' and I think that's true. We bring 1.7m people here to the Bahamas and it's a highly rated experience. We check and we monitor every single guest feedback on every single destination we go to and obviously we take that very seriously.
"So the Bahamas always scores very well and when it continues to score well we will continue to come here. I think that is proven by our long relationship with the Bahamas and the fact that we have 13 of our ships calling in the Bahamas on a regular basis. That's quite a lot of ships."
Mr Christie said RCI has invested $235m in the development of Coco Cay. With the accommodation of the fixed pier, the cay will be able to receive larger cruise ships and will accommodate Oasis-class ships that carry up to 5,400 passengers.
"There will be a new craft market place, shore, excursion building, bike and equipment rentals building, transportation centre, suite guest building, a new active aquatic zone, additional food and beverage facilities and associated infrastructure and landscaping," Mr Christie said.
"Phase III is slated to have additional guest attractions including a ropes course, zip line, water park, lagoon cabanas, pools and employee accommodations and facilities. Local musicians, entertainers, artists and other professions will also be engaged to help create authentic Bahamian culture," Mr Christie said.
Royal Caribbean Cruises Ltd is a multinational corporation with 17 per cent global passenger market capture and 14 per cent revenue market share of a $40bn industry.