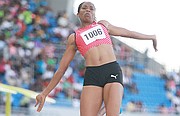 By BRENT STUBBS
Senior Sports Reporter
bstubbs@tribunemedia.net
IT wasn't her best, but women's long jump record holder Bianca 'BB' Stuart was quite content with her performance over the weekend.
Competing in the Seminole Twilight Meet at Florida State in Tallahassee, Florida, Stuart posted her winning leap of 6.41 metres or 21-feet, ½-inch to take the title.
Stuart's nearest rival was Jogaile Petrokaite, a junior from Florida State, with her best of 6.07m (19-11) for second place.
"First and foremost I would like to thank God for allowing me to get through another competition in healthy condition," said Stuart, who competed in her third meet for the season, coming off a wind-aided 6.66m (21-10 1/4) and a legal 6.63m (21-9) two weeks ago at the War Eagle Invitational in Auburn, AL.
"This meet in Tallahassee on Friday wasn't my best performance distance-wise, but I felt great and was technically sound based on my coach's observation."
The two-time Olympian, who turns 29 on May 17, was short of the qualifying standard of 6.75m for the IAAF World Championships all set for August in London, England.
But she's confident that she can attain that goal.
"My focus going forth is to follow my coach's instruction in order to properly execute my jumps each time I compete," said Stuart, who will compete in her next meet in St Martin on May 13.
"Proper execution will easily bring the further distances."
The daughter of Althea and Sherwin Stuart and brother of Nyles Stuart, a former long and triple jumper, is hoping that she will make her fourth appearance at the sport's biggest event.
Stuart was one of six persons inducted in the Saluki Hall of Fame during a ceremony at the Southern Illinois University's Arena in Carbondale, Illinois.
During her tenure from 2006-09, Stuart was a seven-time MVC long jump champion (four indoor, three outdoor) and is the only four-time conference champion in the long jump in league history.
Stuart, who lives and trains in Auburn, Alabama and is coached by Henry Rolle, was a two-time All-American, placing seventh at the 2008 outdoors and fourth at the 2009 indoors.
She still holds the school and MVC record in both the indoor and outdoor long jump, and was a key figure in two MVC team titles for the women in 2009 (indoor and outdoor).
Also at the Tallahassee meet, Grand Bahama's Sunland Lutheran 2014 graduate Shaquania Dorsett clocked 53.29 seconds to win her heat in the women's 400 metres.
The 19-year-old biochemistry major, now in her sophomore year, finished second overall. Taylor Washington of Empire Athletics was the winner in 52.62.
Dorsett, the daughter of Michelle Evans and Desmond Dorsett, has already earned All-ACC Academic Honours during the indoor season and was a member of the ACC honour roll.
In the Payton Jordan Invitational at the Stanford University in Stanford, California, Kaze Poitier of the Academy of Arts ran to a second-place finish in the men's 200m in 22.88. The winning time was 22.75 by Marlon Britton, who was unattached.
Poitier, a 5-foot, 10-inch freshman from Queen's College, was also fifth in the 400m in 50.96. Steven Solomon was the winner of the event in 46.13.
The web design and new media major is the son of Kingsley and Monique Poitier and he has a sister, Kyi.