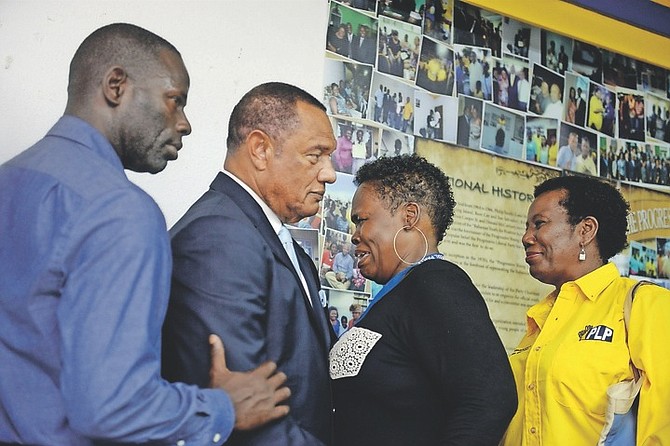 By RASHAD ROLLE
Tribune Staff Reporter
rrolle@tribunemedia.net
TWENTY years after he took the helm of the Progressive Liberal Party from the late Sir Lynden Pindling, former Prime Minister Perry Christie resigned as leader of the PLP during an emotional meeting at the party's headquarters on Farrington Road last night.
With Mr Christie's resignation, former Deputy Prime Minister Philip "Brave" Davis will now serve as interim leader of the PLP.
Many cheered and some shed tears as Mr Christie recounted his story as a politician, the adversities he faced in life and the successes of his administrations as he sees them, from Urban Renewal, the Bahamas Agriculture & Marine Science Institute (BAMSI), Baha Mar and National Health Insurance (NHI), among others.
In a speech that often moved from reflective to defiant, Mr Christie said he accepts full responsibility for his party's defeat in last week's general election, the worst defeat the party has ever suffered at the polls.
"I also accept," he said, "without reservation, that the best traditions of our democracy, no less the impulses of my own
conscience and value-system, dictate that I resign as the leader of our party. This is the correct and only thing for me to do from both a political and moral perspective."
Mr Christie said it is critical to the rebuilding of the PLP that the party understands the message voters sent it with last week's general election result and he called on PLP supporters to humble themselves before the electorate.
Likening the party's current predicament to the challenge it faced in 1997 when it won only six seats in the House of Assembly, Mr Christie said: "We need to come to terms with any mistakes we made. And it is not at all incorrect for us to humble ourselves before the people and let them know that we understand their message. We should speak to whatever failures we've had as well as the many successes because we've always said we're going to work hard, to work assiduously, and work to do our best. Sometimes mistakes are made and we have to be not just honest with ourselves about the mistakes that were made, but in frank admission to the people of our country from whom we expect their respect and support and that we understand how important it is for them to understand that we respect them and our views."
Even as the PLP sets out to find out why it suffered such a heavy defeat last week, Mr Christie reminded supporters that the historical odds favour a return to government for the party in 2022.
"There is another part of the nation's recent history that should give us great encouragement and it is this," he said. "We have not had a two term government now for 20 straight years. Every single general election since 1997 has produced a government for just one term."
"My season in politics has now ended," Mr Christie said as he wrapped up his speech last night.
"It is for me to bid you farewell as your leader. The time has come for me to move on and I do so with these final words to you: I wish to God that I could have helped more people but God knows that for all my faults and failings as a leader and a man I tried my best to do the best I could for the Bahamian people."
After last week's loss, former Tall Pines MP Leslie Miller said he was concerned about Mr Christie's "mental state."
Mr Christie expressed annoyance last night at the notion that he could be struggling to deal with last week's loss, noting his experience of being put out of school at 14 and suffering a stroke in 2005 during his first term as prime minister, have strengthened him.
Mr Christie did not discuss why his party lost last week's election, but the unfounded claim that the Free National Movement allegedly "bought votes" was a popular theory among the crowd.
Without directly saying so himself, Mr Christie said: "(Past PLP supporters who have sat in this room) would never conceive of selling votes. They understood that citizenship required them to participate in general elections and win or lose they would do so with integrity."
The idea that unethical activity may have taken place in the election was shared by Mr Davis, who told The Tribune last night some residents have allegedly come forward and told him as much.
In the lead up to the election, some supporters of the FNM also accused the PLP of allegedly giving inducements for votes, however this too was not proven.
Last night, Mr Davis could not tell The Tribune when the party will have a convention.
Meanwhile, former Tourism Minister Obie Wilchcombe revealed that he will run for chairman of the PLP at the party's next convention as Bradley Roberts will not seek re-election to that post.