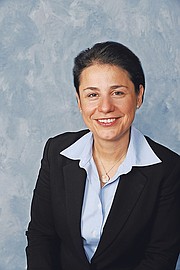 Dr Ioana Dumitru, advanced heart failure and transplant cardiologist of Memorial Healthcare System of South Florida, has been invited to participate as a guest speaker at the Grand Bahama Medical and Dental Association's 17th Annual Scientific Educational Conference, from November 2-5, where she will be sharing insight about heart failure and medication.
The heart is a powerful muscle that circulates blood throughout the body. When you suffer from heart failure, your heart is weakened and unable to pump enough blood throughout your body.
"Heart failure is an ongoing disease that gets worse over time and affects about six million Americans. Heart failure with reduced ejection fraction is a serious, long-term condition that doesn't go away and currently has no cure. Whether you or somebody you know suffers from heart failure, there's a lot you can do to help manage the condition. Learning about heart failure, its symptoms, risks, treatment and how to make heart-healthy lifestyle changes are good places to start," said Dr Dumitru.
It is important to keep track of symptoms, new or old, because these may increase the risk of death and hospitalisation and often go unnoticed. Some heart failure symptoms include shortness of breath, swelling, feeling tired or fatigued, coughing, confusion or memory loss and rapid weight gain. People with heart failure have a greater risk of death, with about half dying within five years of diagnosis. Risk of hospitalisation also increases, as heart failure is the leading cause of hospitalisation in those over 65 years of age.
When you suffer from this disease, the smallest of changes can make a big difference. It is important to eat a balanced diet high in heart-healthy foods and low in salt as salt causes the body to retain water, which can cause swelling and make it even harder to the heart to pump blood. The heart, like any other muscle, benefits from physical activity. In fact, most doctors consider light exercise an important part of heart failure treatment.
Lastly, it is not uncommon for people with heart failure to take several different medicines for several different conditions. However, it's not always easy to remember what each medicine is for and when it should be taken.
Entresto, a new medication combination of neprilisyn inhibitor sacubitril and an ARB valsartan, is the only effective new heart failure medication released on the market in almost two decades to impact the mortality and morbidity rate of patients suffering of heart failure with low ejection fraction. Neprilysin inhibitors inhibit the break down of natriuretic peptides, an important step in the neurohormonal activation pathway for heart failure.
More like this story