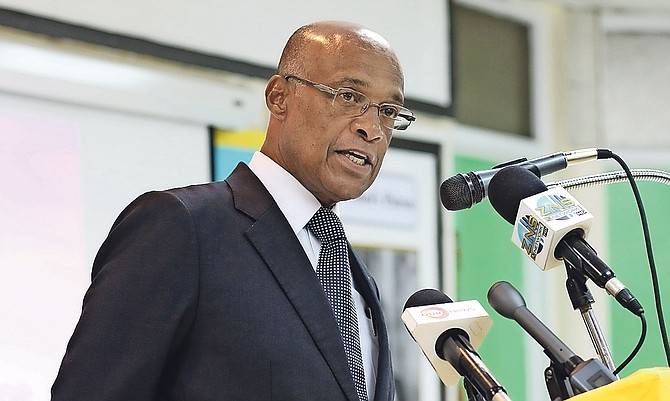 By AVA TURNQUEST
Tribune Chief Reporter
aturnquest@tribunemedia.net
EDUCATION Minister Jeffrey Lloyd flagged the government's expanded focus on early childhood education and technical and vocational training, as he reaffirmed the nation's commitment to the achievement of the UN's 2030 Sustainable Development Agenda.
Mr Lloyd spoke at the 39th annual UNESCO conference in Paris, France on Thursday.
"The Bahamas firmly believes that education is an indispensable element for achieving sustainable development," he said. "Thus, our newly elected government is working steadily to ensure the right of all of its citizens and residents to an equitable and inclusive education.
He continued: "New education policies are being be grounded in progressive educational research and planning, improving the learning environment; updating the curriculum and education materials; establishing global standards and conditions; and supporting the advancement and development of educational professionals.

"We are also shifting our policies from focusing exclusively on universal primary and secondary education to one that promotes lifelong learning, especially with a particular emphasis on early childhood and pre-school education.
Mr Lloyd said: "We firmly believe that in addition to those basics that were once the cornerstone of a primary school education, those being literacy, numeracy, orally and cognitive skills development, we must also ensure the vital inclusion of social and emotional values and training of our youngest minds.
"Another crucial area of focus for our country," he said, "is that of technical and vocational training.
"The Bahamas has increased financial assistance for students interested in these technical and vocational fields, concurrent with the expanded role of the Bahamas Technical and Vocational Institute. By such actions we have seen the numbers of entrants at the institution steadily increase; thus, ensuring that we have a technically skilled workforce to meet the country's future demands."
Mr Lloyd said: "New local and regional partnerships are being forged while old ones are being strengthened, as The Bahamas recognises that the support of the international community is necessary if we are to achieve our desired goals. Such partnerships, we believe, enable sustainable development, and play a meaningful role in facilitating the implementation of these various initiatives in small island developing states like The Bahamas."
Mr Lloyd said the country was committed to full and constructive participation in follow-up and review processes of UNESCO's 2030 agenda, adding the government will continue to invest the "lion's share" of its national budget in education, science and technology.
"We accept that this is fraught with expected and unexpected challenges," he said, "considering our fragile resources as an emerging economy, with the added challenge of being an archipelago. Nonetheless, I once again affirm my country's commitment to the achievement of the 2030 Sustainable Development Agenda."