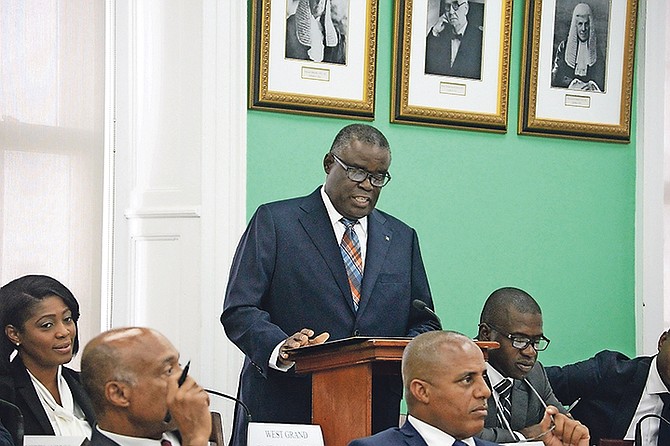 By KHRISNA RUSSELL
Deputy Chief Reporter
krussell@tribunemedia.net
RETIRED civil servants who are re-engaged by the government will have their pensions stopped in a bid by the government to "unclog" the public sector, Public Service and National Insurance Minister Brensil Rolle said yesterday.
In an interview with The Tribune, Mr Rolle said the Minnis administration made the decision to revert to the practice birthed under a former Free National Movement administration to not only add structure to the public sector, but to ensure talented people have equal opportunity for promotions.
"We just reverted to the policy established by the Free National Movement in 2007 where you could not get both [pensions and salary] if you were receiving a pension and the government needed you to work," Mr Rolle said yesterday when contacted by The Tribune. "You had to make a decision whether you wanted to continue with your pension and not work.
"For example, if your pension is $50,000 and the position that we're offering is $70,000, we'll pay you the difference as opposed to someone getting a salary and a pension.
"The primary reason why we are doing that is to not only add some structure to the public service but to make sure those persons who are talented in the service would get an opportunity to be promoted."
He also said: "People are brought back and they are brought back in the case of a few senior technical officers and permanent secretaries for example with a salary of say $70,000 and say if you had served for two terms in the public service as a PS, it means that your pension would be $70,000 and if you are brought back you are brought back to a salary equal to $70,000 or a bit more than that.
"In our view that has clogged the system because there are many serving officers who could have been promoted to that position and if we cannot do without you, the position is we will assign somebody to you to be trained for the period of the contract so that when you leave there will be somebody in the service able to take over your position."
Last month, a memorandum was circulated announcing this policy change among others.
Officers who retired before the mandatory age of retirement maybe re-employed on a temporary month-to-month term, contract or 12 months' probation in a post scale and salary commensurate with qualifications, experience and needs of the agency, the memo stated.
In addition, these persons would have their pensions ceased during the period of re-employment on contract, temporary month-to-month terms of 12 months' probation and if qualified to be re-appointed to the permanent and pensionable establishment, they will have their pensions recalculation in accordance with the Pensions Act on final retirement from the public service.
These officers may be considered for promotion, it said.
Regarding officers who retire at the mandatory retirement age, they may be considered for re-employment but only in exceptional cases for nurses, medical doctors, critical allied health professionals and teachers.
Such officers may only be re-employed up to age 70 if special circumstances with permission of the minister necessitates re-employment beyond this age. Other officers are only considered in exceptional circumstances and with the permission of the prime minister, the memo noted.
Additionally, the pensions of these persons will cease during the time of re-employment and they may not be promoted.
More like this story