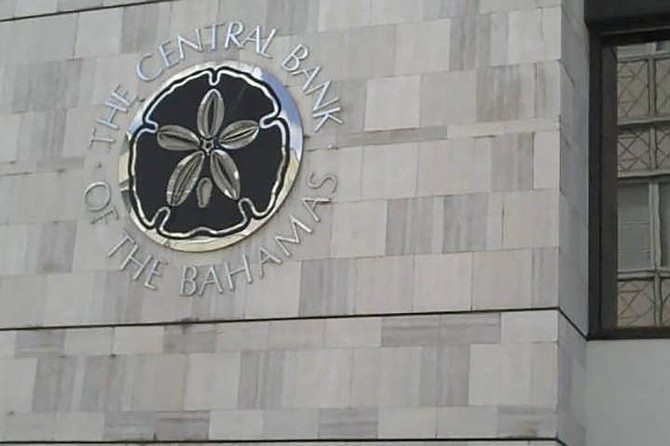 By NEIL HARTNELL
Tribune Business Editor
nhartnell@tribunemedia.net
Bahamian banks have increased fees for cross-border transactions by as much as 186 per cent over the last five years, due to growing pressure on their international ties.
A recently-published International Monetary Fund (IMF) working paper further exposes the impact correspondent banking 'de-risking' is having on Bahamas-based institutions and their clients, with wire transfer fees alone having increased by 20 per cent since 2012.
It reveals how the fee increases, and extra time spent on compliance and administrative work, have negatively impacted the financial services industry and a wider Bahamian economy that is primarily based on international trade and services exports.
The IMF paper warned that besides further depressing growth and jobs in the financial services industry, 'de-risking' was also "complicating efforts to diversify the economy", with many institutions "vulnerable" to further reductions in the number of relationships they hold with foreign correspondents.
It acknowledged, though, that the decision by some global banks to terminate relationships with their Bahamian counterparts was driven, at least in part, by their "discomfort" in providing services to institutions that do business with the web shops.
Drawing on the Central Bank of the Bahamas' correspondent 'de-risking' survey from August 2016, the IMF paper revealed that fees charged by Bahamian banks to their customers for correspondent banking-related services had increased by between 8 per cent to 186 per cent over the last five years.
This represents the highest increase in the Caribbean, although both the IMF and Central Bank rated the 'de-risking' impact on the Bahamas to-date as 'low' when compared to other nations in the region.
"Based on a recent survey by the Central Bank of the Bahamas, a total of 14 institutions (about 25 per cent of survey respondents), comprising three domestic commercial banks, one money transmission service provider, and 10 international banks, have been affected or impacted by the withdrawal of correspondent banking relationships," the IMF paper said.
"Thus far, there is no evidence of significant impact on the domestic financial system as a whole, or on financial intermediation in the domestic economy. This reflects the dominant role of Canadian-owned banks, which hold almost 70 per cent of total banking system assets and have not lost any correspondent banking relationships. Financial institutions that were not able to replace lost correspondent banking relationships, continued to rely on existing correspondent banking relationships or their parent companies for correspondent banking services."
Instead, the IMF paper said the private sector and individual Bahamians had felt the impact in higher transaction fees, with banks incurring increased time and compliance costs in a bid to maintain their relationships with US and other industrialised-world institutions.
"Banks report higher investment and staffing costs stemming from additional reporting requirements and scrutiny; disruptions in services to money service providers; impact on cheque clearing, trade finance, international wire transfers, and cash management transactions; as well as sometimes sizeable increases in customer fees," the IMF paper said.
"Fees for wire transfers have increased about 20 per cent on average over the last five years. A majority of financial institutions rely on few (one to four) correspondent banking relationships, suggesting vulnerability to further losses."
Banking fees, and real or perceived increases in them, are an especially sore and sensitive issue for many Bahamians. A senior Royal Bank of Canada (RBC) executive said last week that fees had increased in line with the drop in loan interest income, as banks bid to cover their costs in a depressed economic environment. International pressures, though, are clearly another factor.
Correspondent banks are those that allow Bahamian financial institutions to provide services in their home countries, using their physical and electronic banking infrastructure. They give Bahamian banks, and their clients, access to the international capital markets and financial system, enabling transactions to clear and be settled on a timely basis, and foreign currency deposits to be taken.
Banks in major industrialised countries have embarked on an increasing trend of severing correspondent relationships with foreign banks, and the Caribbean region is among those that have been most heavily impacted.
The move is being driven by the 'risk/reward' analysis, with developed country banks perceiving correspondent relationships with their Caribbean counterparts as too 'high risk' when measured by the financial rewards.
They are particularly concerned that Caribbean banks are susceptible to financial abuses, such as money laundering and terror financing, which could lead to financial sanctions being imposed on themselves by home country regulators.
Correspondent bank 'de-risking' has potentially major ramifications for the wider Bahamian economy, given that this nation's model is that of an international business and financial services provider, which also imports the majority of what it consumes.
Bahamian banks rely on foreign correspondents to clear foreign currency transactions and payments on behalf of their clients, and increased de-risking threatens to cut off local businesses from international finance, trade and commerce, undermining the economy's very existence.
The Bahamas' 'trade openness' was said to be equivalent to 100 per cent of GDP between 2011 and 2015, due largely to tourism receipts standing at 27 per cent of economic output - the highest in the Caribbean. Net foreign direct investment inflows averaged around 11 per cent of GDP over the same period, the third highest in the Caribbean.
While the value of Bahamian bank cross-border operations had dropped by between 25-30 per cent between 2011 and 2015, the third-highest drop in the Caribbean, the volume had increased by 28 per cent - the second biggest jump. This, the IMF paper said, implied a near-50 per cent drop in average transaction value.
The IMF paper said "the largest fallout" from correspondent banking 'de-risking' had been felt in the Bahamas' international financial services sector, which "has been shrinking" due to uncertainty associated with global regulatory initiatives and decline in clients' risk appetite.
"Global trends of withdrawal of correspondent banking have led to even more scrutiny, further reducing the sector's contribution to growth and employment, and thus complicating efforts to diversify the economy," it warned.
Foreign banks' risk perceptions were identified as a major factor behind Bahamian banks losing correspondent relationships. The IMF paper adds: "Anecdotal evidence suggests that international correspondent banks are uncomfortable providing services to domestic banks that do business with either money transmission businesses (MTBs) or online gaming operators (so called web shops), which are perceived as a higher anti-money laundering/counter terror financing risk.
"Smaller, standalone financial institutions with fewer international transactions, in both domestic and international sectors, have been more vulnerable. The general view is that in several cases the costs of anti-money laundering/counter terror financing compliance outweigh the profits generated by correspondent banking services, making it particularly difficult for smaller local institutions with fewer international transactions to maintain their correspondent banking relationships."
To tackle the problem, the IMF paper urged the Bahamas to swiftly tackle deficiencies in its anti-money laundering/counter terror financing regime that were identified in the July 2017 Caribbean Financial Action Task Force (CFATF) report.
"Looking forward, authorities should ensure strong compliance and take a proactive approach to strengthening implementation," the IMF paper said. "Continued evaluation of the supervisory and regulatory framework for both banks and non-banks to proactively identify and address risks in a timely and assertive manner is critical."