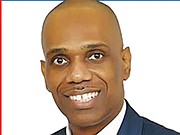 By NICO SCAVELLA
Tribune Staff Reporter
nscavella@tribunemedia.net
PINERIDGE MP Rev Fredrick McAlpine yesterday suggested that negative feedback directed at him for his critical stance on the government's proposed aid for Dominica, was due to "another agenda at play".
Mr McAlpine, in a recent interview with Our News, questioned whether the flack he has received for the comments he made during his contribution in the House of Assembly last month was personal in nature, and whether negative feedback existed "not because of my message but who the messenger is."
He further claimed that there are "persons in the press" pushing the narrative that he is against assisting the Dominicans, and conversely that his recommendations to aid Dominica in other tangible ways are "not being heard by some persons in the media."
Nonetheless, Mr McAlpine maintained his original position regarding the assistance of Dominicans, adding: "I can't be anti-Christian simply because I'm saying listen, we can help those folks, but at the same time don't negate or neglect us as well."
Late last month, Mr McAlpine recommended that instead of giving Dominicans a safe haven in the Bahamas, wealthy Cabinet ministers should instead take money from their own pockets to contribute to that island's restoration efforts.
Mr McAlpine said he felt that the Bahamas could assist Dominica financially, and should consider giving $200,000 to Dominica. That country donated $100,000 to the Bahamas after Hurricane Matthew last year.
And, in what appeared to be a swipe at Prime Minister Dr Hubert Minnis, who cried earlier in the day as he recounted the destruction in Dominica, Mr McAlpine said he was crying for his own people.
Mr McAlpine's remarks sparked widespread criticism, as well as questions about whether he is xenophobic or racist.
In a recent interview with Our News, however, Mr McAlpine stood by his initial remarks, although stressing that "never once did I say not to assist the people (of Dominica)."
"…Sometimes I'm beginning to wonder if this argument is coming from persons not because of my message but who the messenger is," he said. "If I'm saying we can help the people of Dominica and then there are persons in the press trying to push to the country as if I never said to help them, then I begin to think there's another agenda at play."
When asked what he thinks that "agenda" is, Mr McAlpine responded by saying: "I don't know, you tell me. The fact of the matter is I'm saying that we ought to help them, we should give them finances, we should send aid, we should send people to help build their country, but it's like that's not being heard by some persons in the media. Now, of course, there are those who are hearing me loud and clearly."
He added: "My view remains the same: assisting Dominica is fine, but also assist the Bahamian people."
Earlier this week, Press Secretary Anthony "Ace" Newbold said Prime Minister Minnis was not offended by Mr McAlpine's remarks, and suggested that Prime Minister Minnis has no plans to address Mr McAlpine about his comments.
Still, some Free National Movement observers felt that Mr McAlpine's comments stemmed from his bitterness over not being offered a Cabinet position.
Mr McAlpine has admitted that he would have liked to have been given a Cabinet post.
However, Mr McAlpine insisted that he has since got over not being offered a Cabinet position.
"Like anybody else who perhaps did not get into the Cabinet would've been disappointed, I was disappointed when I was not chosen for a Cabinet position," he told reporters. "This is my second non-consecutive time in Parliament. I served for five years in the Senate, so I know how the procedure (works). So was I disappointed? Yes. But today, I see it as a blessing in disguise.
"So I'm being on the outside, listen, I'm quite comfortable fighting for Pineridge and the people of Grand Bahama and Bahamian people at large. I have no problems with that. Now that's the reality and that's the truth. Now am I anti-my prime minister or the FNM? No. We are a democratic society. I am a backbencher. That's what backbenchers do all over the world in Westminster systems. They speak for their people.
"I have not sworn allegiance to her majesty and her servants, I have sworn allegiance to the people of the Bahamas. So they have, based on the Constitution, they have parameters that they have to stay in. I don't have to stay in those parameters. I am in a position to fight for the people of Pineridge and the people of the Commonwealth of the Bahamas and to express my view."