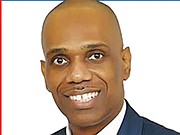 By RASHAD ROLLE
and DENISE MAYCOCK
Tribune Staff Reporters
PINERIDGE MP Rev Fredrick McAlpine criticised his own party's plan to accommodate Dominicans following the destruction Hurricane Maria wrought on Dominica, recommending that wealthy Cabinet ministers take money from their own pockets to contribute to the island's restoration efforts rather than give Dominican people safe haven here.
Also attacking his party's policy for Grand Bahama's development, his statement marked the first time this term the Free National Movement has received pointed criticism from one of its own in a public forum.
And in what appeared to be a swipe at Prime Minister Dr Hubert Minnis, who wiped tears from his eyes earlier in the day as he spoke of the destruction in Dominica and the harsh reactions some have had to his plans to help citizens there, Mr McAlpine said he is crying for his own people.
Pinewood MP Reuben Rahming, the speaker who followed Mr McAlpine during the afternoon sitting of the House of Assembly, rebuked his colleague's comments. Other FNM parliamentarians beat their desk in support of Mr Rahming's remarks at times while Mr McAlpine sat silently.
"Before you question my (Christianity), let me remind everyone and those watching by television, nobody in this country got a heaven to put me in or a hell to keep me out of," Mr McAlpine said appearing agitated.

"I don't want you to think that I don't think we should assist the people of Dominica, but the route we are taking may cost us more in the long run. I understand emphatically well that during our dilemma, during Hurricane Matthew, (Dominica) contributed $100,000 to assist us.
"We're grateful. Well, my view is, the time has come that we should assist them. But my view, how? They gave us $100,000 maybe we should give them $200,000. Now I hear the story bout ain' no money, but I know the Cabinet and since we talking about (Christianity) there's something called seed time and (sow time), and there's enough folks in the Cabinet who could underwrite that and not miss it. So, if we can't afford it, do it on our behalf."
Mr McAlpine suggested that once Dominicans experience a "better standard of living" in the Bahamas once they get here, they may not be inclined to return to their country.
"And let me also bring to your attention another reality; we could have our problem but here is the harsh reality, when we have our problem Bahamians don't run to the south, they run to the north because of our standard of living.
"So when you bring folks from south up here to another standard of living, let's see if they will be in a hurry to go back from whence they came," the MP said.
"Children are coming, are they all immunised?" he asked. "Do we know their conditions? They may be coming from (the) south but which one of you in this House would send your minor child to another country not accompanied by you? Who is coming with these children? How long are they are going to be here? Assist, but don't put us in a deeper quandary. It may cost us more going the route we're going."
During his blistering attack on his party's plans, he also said progress for Grand Bahama has been moving "painfully slow." And although he is chairman of the Hotel Corporation of the Bahamas, he said he has "no dealings in the negotiations of what takes place on the Lucayan strip" – referring to negotiations over the sale of the Grand Lucayan resort – because he has not been involved in the process despite wanting to be.
"There seems to be a lack of cohesiveness as to what direction the island is going in or the harsh reality that it's just not going," he said, adding that economic conditions had left some Grand Bahamians homeless and sleeping in cars.
Mr Rahming responded to Mr McAlpine by re-reading parts of Prime Minister Dr Hubert Minnis' speech from earlier yesterday in which he explained how Dominicans will be helped.
"Pinewood sees no way this interferes with the government's ability to love, care, support, defend, return this country back on its good foot in any way - character matters," he said of the administration's plan. "One of the hallmarks of leadership is listening. I am grateful that we can still stand here and fight the issues of Bahamian culture and still extend the hand abroad and help somebody else.
"Whatever it takes, I have a duty to leave my ego at the door and when my opinion conflicts with the national good I check that at the door," Mr Rahming added.
"If you have a question as it relates to those who down south as being our family members, just go back a few hundred years. The same way the mail boat dropped off cargo along the way to our southern islands, the same way our family, brothers and sisters were dropped off down the same Caribbean chain and I challenge any Bahamian person who's kicking up and getting beside themselves, go check your DNA and I guarantee you four out of five Bahamian people have blood linkages all throughout the Caribbean chain so we must check ourselves before we wreck ourselves. "We're not high because we're better, we're high because of the grace of God and our location...," Mr Rahming said.