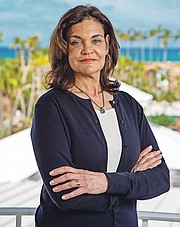 By ALESHA CADET
Tribune Features Reporter
acadet@tribunemedia.net
For Audrey Oswell, the newly appointed president and managing director at Atlantis Paradise Island, it is encouraging to see women progress professionally and their roles expanding in every industry, not just hospitality.
"At Atlantis we have many women in all levels of management, and strength in management comes with diversity. Women are an important part of that. I am both honoured and proud to lead the team at Atlantis, and there is no other team I would rather stand beside to confront the challenges that lie ahead," she told Tribune Woman.
In her new job, Audrey is tasked with the development and execution of a business strategy that will drive profitability of the resort. She oversees day-to-day operations, ensures that the company achieves its corporate mission and values, and that it fulfils its commitment to support the community and protect ocean and marine wildlife.
Growing up in Philadelphia where her family still lives, Audrey attended college in the city, earning herself a Bachelor of Science from the Temple University, and an MBA from Drexel University.
Pursuing a degree in Early Childhood Education, she dreamed of owning and running a Montessori School. However, Audrey's career took an expected turn after landing a summer job at Caesars Atlantic City Hotel & Casino as a cashier supervisor.
"By the end of the summer I had been promoted to department manager, was having lots of fun and never looked back. Up until that time I had never been in a casino. I stayed at Caesars for 21 years, working my way up through many departments and eventually became the president and chief operating officer of that property. I value my many years at Caesars learning from some highly regarded people in the industry. I also value the experience of working many different jobs as well as side by side with employees at all levels of the business," said Audrey.
To this day, this is the experience she always goes back to - understanding first-hand of what a team goes through when performing their job. The experience also provided her with a broad perspective of the business and is at the core of Audrey's two guiding principles: to always do the right thing and contribute equally to the success of the business.
Looking back on her career, Audrey now sees that much of what she has accomplished was groundbreaking. Her hope is that future generations of women and minorities throughout the world continue to press for equality on all levels.
"We are in the next stage of evolution at Atlantis and I am fortunate to have the 7,500 team members by my side as we take those challenges on. We have the most experienced hospitality team in the country. They care, they take pride in their work. and they come to work every day with a common goal: how can I make today special for our guests - both those guests I will come in contact with and those I may touch without meeting them face to face," said Audrey.
When asked what she enjoys most about her job, Audrey said it is the people. As hospitality also serves as a social business, she said she gets to meet so many different people from day to day and this energises her.
"I love that every day is different and that a large part of my job is walking around talking to customers and employees. Of course I'm always processing what they tell me to see how we can improve our operation, but I enjoy it nonetheless," she said.
Speaking about her inspiration, Audrey said her mother is definitely the biggest influence in life, but at the same time, personality wise she follows more in the footsteps of her father.
"As I grow older I realise that my mother taught me two very valuable lessons in life - the art of forgiveness and perseverance. My husband has also been a great influence. He has been extremely supportive of my career and the long hours I put in. Without that support I don't know that I would have gotten as far as I have," she said.
As for her advice for young women coming up in the world, Audrey advises to "always dream big, work hard, be patient, never compromise your values, and always do the right thing."
More like this story