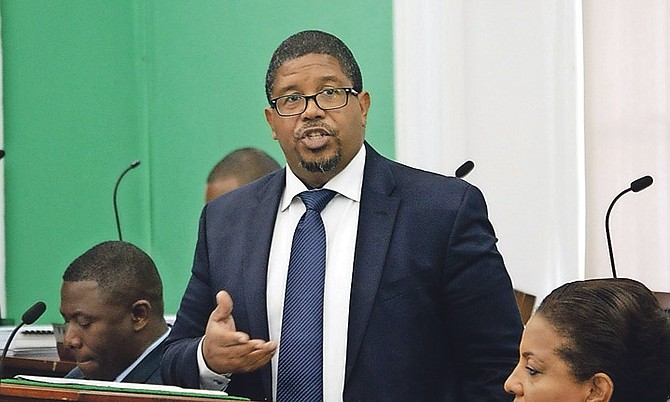 By NEIL HARTNELL
Tribune Business Editor
nhartnell@tribunemedia.net
The Deputy Prime Minister has not ruled out new or increased taxes for web shops, saying the Government had to consider sector integrity as well as revenues.
K P Turnquest, in a recent Tribune Business interview, said he did not "want to get ahead of Cabinet" when asked whether the Government planned to act on the gaming minister's suggestion that numbers houses be subjected to new and/or increased taxation. "It's too early for me to comment on that," he told this newspaper. "I don't want to get ahead of Cabinet with respect to that, but as he's [Dionisio D'Aguilar] indicated we have to consider all these possibilities - not only revenue sources, but how we can ensure we protect the system against potential abuse."
The Gaming House Operators Association, and its members, reacted angrily to Mr D'Aguilar's concerns and criticisms of their industry, especially his suggestion that it be made to pay new or increased taxation given the anti-social effects of gambling. Individual operators, speaking on condition of anonymity, subsequently argued to Tribune Business that they were among the most heavily taxed and regulated sectors of the Bahamian economy, and increasing this burden would simply be unfair.
Gaming house operators are currently required to pay 11 per cent of their taxable revenue or 25 per cent of earnings before interest, taxes, depreciation and amortisation (EBITDA), depending on which one is greater.
They also pay 2 per cent of their revenues to charitable causes and entities, which generated the Association's argument last week that its effective tax rate is 13 per cent, when hotel-based casinos pay just 5 per cent.
Mr Turnquest's response, though, indicates that the issue of web shop taxation remains a key issue for Cabinet debate. And concerns are being raised ever-more frequently about gambling's negative impact - especially in poor Family Island communities.
An Exuma businessman, and member of Prime Minister Dr Hubert Minnis's Economic Advisory Council, yesterday told Tribune Business that numbers houses were "Robin Hood in reverse" by taking from the poor to enrich the small number of owners (see column on Page 3B).
Kenneth 'KB' Bowe, the founder/owner of the Chat 'N' Chill beach bar on Exuma's Stocking Island, said the saturation of many Bahamian islands by web shops was "wreaking​ ​havoc​ ​and​ ​breaking​ ​down​ ​the​ ​social​ ​fabric​ ​of​ ​marginalised​ ​communities​".
A Master's graduate from the University of Chicago's School of Business and School of Economics, he added that commercial bank withdrawal from many Family Islands had led to numbers houses "sucking​ ​up​ ​the​ ​limited​ ​savings​ ​and​ ​funds​" ​from​ ​hard-pressed Bahamian​ ​communities​.
Mr Bowe said the Christie administration's decision to legalise web shop gaming had created "a new class of oligarchs", while the banking sector's Out Island retreat acted as a further disincentive in attracting foreign direct investment.
He urged the Government to "democratise" gambling by establishing a National Lottery separate from the web shop industry - an initiative that Mr D'Aguilar last week told Tribune Business was "front and centre" in his thinking.
"We are going in the opposite direction to where we should be going," Mr Bowe told Tribune Business in an interview yesterday. "Only a few people are making money, it's destroyed the banking system and if we let the system go on with banks pulling out of all the islands.....
"I live in Exuma, and can tell you there are people concerned about whether they will stay if the banks pull out. The web shops have been taking the juice out of the banking system in terms of deposits, and everything goes through them."
Mr Bowe said his own business would suffer if commercial banks exited Exuma, as they have done on other Family Islands, given that half his business comes through credit cards.
Warning that foreign and Bahamian investors would not undertake projects on islands with no commercial bank presence, he added: "Why should I, as an investor, want to come if I can't pay my own people by bank transfer or cheque. I have to pay cash, and am at risk of getting robbed."
Mr Bowe argued that the Government's best strategy for controlling the web shop industry's growth was to effectively 'take it on at its own game' by starting a National Lottery, as the turnover generated by the sector showed both could survive.
"I would democratise it, sell it [the National Lottery] at 'Mom and Pop' stores and gas stations," he explained. "We could use the money for sport. It would not leave the system and end up in one set of hands. At the moment, we are just creating mini-oligarchs."
Echoing those concerned about the negative aspects of web shop gaming, Mr Bowe said its impact was visible throughout the island.
"The web shops are everywhere, even in Exuma," he told Tribune Business. "I'm afraid. This is a dire situation we have now. There are people who come up to me and want me to give them money as they've already spent the grocery money.
"It has me scared. All I need is someone to hold me up for money. The young boys don't want to work. If you take a picture of the web shops in Exuma, you will see they're open on Sunday. It's amazing; everyone goes to the web shops before they have breakfast at around 6am."
Mr Bowe also accused web shops of effectively preying on lower income Bahamians, and their desire to "live the dream". He explained: "Our national grade average is a 'D-'. The lower the level of education, the more people believe in the superficial and that they can win something.
"If you look at Nassau, the web shops are all over Over-the-Hill, where you have people."