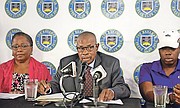 THE BAHAMAS Press Club will hold its annual awards banquet on Saturday, November 18, honouring the best in Bahamian journalism.
The banquet is held under the patronage of Governor General Dame Marguerite Pindling and Prime Minister Dr Hubert Minnis will be the keynote speaker.
At a press conference yesterday, Bahamas Press Club President Anthony Capron said this year's event will give local journalists a "pat on the back" for a job well done.
"Often you may hear phrases being bandied about that the press is the watchdog of society," he said. "And, indeed, it is. But you may also hear that the media is not doing a good job, and sometimes that it is not doing its job, period.
"You always hear what the press is not doing. The good goes unspoken, and unrecognised by the critics.
"We in the media know that we are not all good. But, we also know, that we are not as bad as the naysayers try to paint us.
"And so, it is up to us to recognise our worth and to give ourselves the necessary pat on the back.
"However, we note that with the advent and the spread of social media, a burden has been placed on the traditional media, like never before. More than ever now, we need to be very careful of our sources and to remember our tenets. Check and recheck. "Ensure that we have the facts and to jealously guard against being the purveyors of what today is heralded as 'fake news.'"
This year, three new categories have been added to the competition: University of The Bahamas Journalism Award (for UB students), The Press Club Person of the Year Award (to be chosen by The Press Club), and the PAHO-WHO Excellence in Health Promotion Award, sponsored by the Pan-American Health Organisation/World Health Organisation.
The organisation announced the Etienne Dupuch Lifetime Achievement Award will be given to Gladstone Thurston – former journalist who has worked at The Tribune, The Nassau Guardian and Bahamas Information Services.
Also this year, the recipient of the Pioneer Award is Joan Albury, of The Counsellors Limited.
In 2015, the Bahamas Press Club honoured Tribune Editor and Publisher Eileen Dupuch Carron. Last year, the club's Lifetime Achievement Award went to veteran broadcaster Calsey Johnson, the recent Bahamas high commissioner to Canada.
Judges include Hadassah Hall, Judy Terrell, Quincy Parker, Duke Wells, Ray Munnings, and Dr Esther de Gourville, PAHO-WHO country rep for The Bahamas and Turks and Caicos Islands.
The event will be held in the Windsor Rood of the Hilton. It is sponsored by Aliv and Bahamas Power and Light.