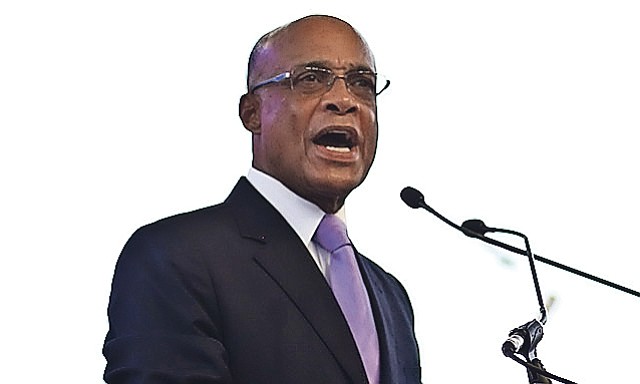 By KHRISNA RUSSELL
Deputy Chief Reporter
krussell@tribunemedia.net
A DAY after Education Minister Jeff Lloyd said "something is wrong" with the country's educational system, officials withheld an official subject letter grade breakdown for the Bahamas General Certificate of Secondary Education examination results, which also show that of 6,692 students who sat the national tests this year, only 521 or 7.8 per cent, scored a C or above in mathematics, English and a science subject.
This is about a nine per cent decrease compared to last year. 
This lack of detailed BGCSE statistics raises questions over how students fared in individual test subjects and highlights challenges this country faces regarding the readiness of youth to adjust to life after high school where they are expected to transition into the work force or college.
However, sources within the Ministry of Education told The Tribune this year's test scores did not depart greatly from the dismal grade trends seen in both 2015 and 2016.  
On Wednesday Mr Lloyd told educators during an event in Grand Bahama that they could not continue to rest on their laurels while the national exam results remain at a D average.
"For the last 10 years or more, the BGCSE results have shown not (any) improvement; we started out with a D, we are still at a D - something is wrong," the minister said during the Ministry of Education's annual Teachers' Enrichment Day. The event was held at the Jack Hayward High School gymnasium on Wednesday.
He continued: "There is no way to camouflage it; there is no way to excuse it; something is wrong and we must fix it."
He went on to stress the only way the issue could be corrected was to go back to the beginning and start with preschoolers.  
In 2015, core subjects of mathematics and English averaged an E and D+ respectively. In 2016, the ministry did not release letter grades per subject, but then Minister of Education Jerome Fitzgerald confirmed at the time that the grades were not much different from those of 2015.
Prior to 2015, subject letter grades were released with the official BGCSE and Bahamas Junior Certificate (BJC) exam tests scores. The following year, the ministry broke away from its traditional analysis, only giving a general overview and percentage calculations per letter grade. This year, the Ministry of Education also did not hold its usual press conference to officially release the results, this time opting to disseminate the details of the tests by email.
Results
"In 2017, a total of 521 candidates received at least a grade C or better in mathematics, English language and a science," the press release accompanying the 2017 results noted. "This represents a decrease of 9.23 per cent when compared to 2016 which had a total of 574 candidates. There were 570 candidates in 2015; 588 in 2014 and 561 candidates in 2013."
According to the new results, there were 2,141 As; 3,000 Bs; 7,065 Cs; 5,569 Ds; 3,496 Es; 1,936 Fs; 1,184 Gs and 710 Us for the BGCSE exams.
Regarding the number of students who sat these tests, there were 6,692, or a 3.95 per cent increase compared to the 6,438 test takers in 2016.
A further breakdown of the results showed in 2017, a total of 1,493 candidates obtained a minimum grade of D in at least five subjects. This represents an increase of 2.33 per cent from 2016, which had a total of 1,459 candidates.
There were also 1,534 candidates achieving this mark in 2015; 1,545 in 2014 and 1,626 in 2013.
In addition, a total of 880 candidates received at least grade C in five or more subjects in 2017 compared with 903 candidates in 2016.
This represents a decrease of 2.55 per cent. There were 961 candidates in 2015; 922 candidates in 2014 and 996 in 2013 in this category.
The Bahamas Junior Certificate (BJC) examination results were not much different when compared with the BGCSE test scores.
Of the 12,120 students who took the tests in 2017, only 1,326 or 10.94 per cent of candidates achieved at least a C in mathematics, English and a science.
"This represents a 14.67 per cent decrease when compared with 2016, which had a total of 1,554 candidates. There were 1,479 candidates in 2015; 1,651 candidates in 2014 and 1,302 candidates in 2013," the Ministry of Education said in its press release.
The BJC results also show there were 3,831 As; 7,033 Bs; 9,395 Cs; 8,036 Ds; 6,036 Es; 4,508 Fs; 2,954 Gs and 2,565 Us.
"When compared with 2016, there is a percentage decrease noted at grades A, C, E and U and increases at B, D, F and G. It is interesting to note that this is the second consecutive year the percentage at U has decreased.
"Overall, the percentage of candidates achieving grades A – D decreased this year when compared with last year," the Ministry of Education said.