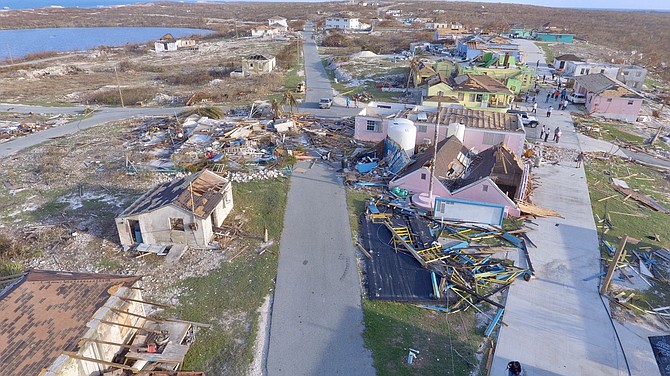 http://youtu.be/DxdgiRES3BE
By KHRISNA RUSSELL
Deputy Chief Reporter
krussell@tribunemedia.net
HEALTH and safety conditions on storm-stricken Ragged Island will only continue to deteriorate, Prime Minister Dr Hubert Minnis said yesterday as he urged the 18 remaining residents on the island to evacuate in the aftermath of Hurricane Irma, which has reduced most structures there to piles of rubble and rendered the island unlivable.
"They cannot stay here," Dr Minnis said after he and a delegation saw for the first time the damage left by Irma and days after the Category Five monster hurricane ripped through the small southern island.
The island's physical condition, exacerbated by the smell of rotting animal carcasses and the destruction of all essential services, led Dr Minnis to strongly urge those still on Ragged Island to leave until the small community can be restored.
"I've spoken to the residents; Ragged Island has been devastated," Dr Minnis said following a walk through and discussion with those who remained on the island as Hurricane Irma battered their homes last week. "Every home has been destroyed. The health facility has been destroyed. The school has been destroyed. The teachers' residence has been destroyed. There is no light. There is no water.
"As we walk about, you can smell the stench of dead carcasses, dead animals. The health conditions of the individuals will deteriorate and it's essential that we get them off this island," Dr Minnis said.

Many were understandably reluctant to leave the only place they've ever known as home, expressing concern for personal belongings.
"They are concerned about the safety of their residences, whatever materials they may have left behind. We will have the Defence Force dispatch a vessel here and the Defence Force will try to commence the cleanup and at the same time ensure that there is security," Dr Minnis said.

Exuma and Ragged Island MP Chester Cooper, who was part of the delegation Dr Minnis led to assess the southern Bahamas yesterday, suggested many of the residents had still not come to grips with the reality the island was essentially unlivable.
The government has arranged for a plane to evacuate all those who will heed the prime minister's advice. It is scheduled to arrive on Wednesday at 1pm.
"We have spoken with residents," Dr Minnis said. "They feel that they need at least 24 hours to get their belongings together, so we will have a flight here on Wednesday at least by 1 o'clock to bring them to New Providence. Some may choose to move to Exuma where they have families (but) they cannot stay here.
"Health conditions and their safety will continue to deteriorate in the next 24 to 48 hours."
Asked how long it was expected to take to restore the island to normalcy, Dr Minnis said: "I am not a technocrat, I cannot answer that. The power is off. There is no health facility, no educational facility. I cannot give you a timeline. My concern at this particular time is the health and safety of the residents. That's the concern of the government and that we will do.
"We will make arrangements to have a plane here on Wednesday at 1 o'clock," the prime minister added.
In response to questions over whether it was mandatory for residents to move, the prime minister said nothing is compulsory at this time, but it is the government's advice as conditions will only worsen.
Speaking to reporters in Nassau after the tour, Dr Minnis said officials will remain in Ragged Island to ensure residents' safety until they are evacuated.
"While travelling back I have had discussions with Minister of National Security Marvin Dames who will make arrangements to ensure that one of his vessels is in the vicinity to ensure the protection of the residents there. So, at Cabinet we will further discuss that but all in all we know that Ragged Island has been decimated.
"There are only about 18 of them. We had the police who would have gone door to door to speak to each and every individual and all of them have family members, if not in New Providence in Exuma, so that is not an issue. The most important issue right now is getting them off that island . . .
"There are many shingles, plywood, etc and multiple exposed nails - you could imagine trying to walk about in a dark environment with exposed nails and puncture yourself absolutely no health facility, no doctor, no nurse then tetanus or some other problem sets in.
"If you speak to them after what they have gone through they will tell you that they don't want to go through that again and it's a lesson to all Bahamians that when the government states that they think that area should be evacuated I feel going forward Bahamians will heed that warning," Dr Minnis said.
Yesterday Mr Cooper reinforced the prime minister's words.
"This is not a good environment to be in," Mr Cooper said. "I encourage the residents of Ragged Island to leave until we can get a better sense of how we can bring Ragged Island to normalcy.
"They are understandably reluctant but I believe in time, give them another night to really absorb what has just happened and I believe they will adjust to it. The circumstances are unhealthy and unsafe and therefore I urge them to take up residence elsewhere," Mr Cooper said.
Last week, the government offered emergency evacuations for residents in the MICAL constituency and Ragged Island. The evacuations were not mandatory, although at the time Dr Minnis urged residents not to risk their lives and stay in harm's way.
Dr Minnis said yesterday his government plans to tour Grand Bahama, Bimini and Inagua at a later date to inspect hurricane damage there.