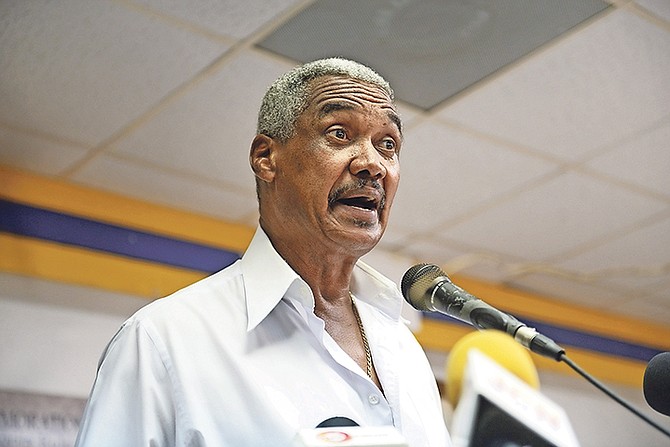 By SANCHESKA DORSETT
Tribune Staff Reporter
sdorsett@tribunemedia.net
FORMER Bahamas Electricity Corporation Executive Chairman Leslie Miller said yesterday there is nothing "unusual" about parliamentarians, top civil servants and churches being placed on a special "do not disconnect" list at Bahamas Power and Light.
In fact, Mr Miller claimed the list has been around since the 1970s and remained in place through both the Free National Movement  and Progressive Liberal Party  governments.
The Tribune understands at least one serving FNM Cabinet minister and two former PLP Cabinet ministers currently owe BPL more than $10,000.
The Tribune attempted to contact the men, but calls were not returned up to press time.
In an interview with The Tribune, Mr Miller claimed being on the list does not mean a person won't be disconnected. He said it simply ensures a "courtesy" call will be placed to warn persons that their power is at risk of being disconnected.
Mr Miller served as executive chairman of BEC, now called BPL, until late 2015. He was removed from his post at the government owned utility provider shortly after the Christie administration announced a transition services agreement had been signed with PowerSecure.
Mr Miller, who has been previously disconnected for an unpaid light bill while chairman of the corporation, said he is currently not on BPL's special list and is still on a payment plan for Mario's Bowling & Family Entertainment Palace.
"I am aware of the list and no I am not on the list. My things are in order, I have not gotten a letter from BPL," Mr Miller told The Tribune.
In 2014, it was revealed Mr Miller and one of his family-owned businesses owed BEC a total of $239,533.33. His family later paid $100,000 towards the bill by cashier's cheque.
"That list has been around since politics in this country began," he added. "It was there when I was first appointed chairman in 1989. It was there through the PLP and the FNM and everyone in government adhered to it. I have personally never seen it, I never asked for it but I know the list has top civil servants, churches, members of Parliament, senators and persons like that. As far as I know being on the list does not mean that you could not be turned off, it just means that someone would call you to make arrangements and give you that courtesy. Like I said, this list has been around for decades and through all governments."
Mr Miller said he doesn't think the list is "unfair" but said it is just a special privilege parliamentarians receive in the Bahamas.
"This isn't anything political to be honest, this didn't even start with politicians," Mr Miller said.
"The list was started by senior civil servants. I am not saying it is right and I am not saying it's wrong, but I can tell you the persons always pay. If you don't want to follow it any more then don't. I mean the first day I was appointed as chairman, I went home and my lights were off.
"So obviously parliamentarians can get their lights cut off. I just don't feel like it is fair for people to continue to make public certain people's light bills, in an effort to shame them."
On Monday, The Tribune revealed that BPL gave politicians and government officials who were on the special "do not disconnect" list seven days to pay their "outrageous" bills or be shut off.
BPL is owed "hundreds of thousands of dollars" by persons on this list, several of whom are said to be "active politicians," The Tribune was told. Government House also owes BPL a hefty sum.
The hardline directive came from Prime Minister Dr Hubert Minnis, who was consulted by Minister of Works Desmond Bannister about the practice the latter found in place by the Christie administration, which allowed elite members of society to rack up electricity bills as high as $50,000 and not be disconnected.
BPL issued the letters to the delinquent customers on Thursday. They will have the option to arrange a payment plan if they cannot pay in full.
While the government is adamant about collecting the unpaid utility bills from politically connected individuals, The Tribune understands Dr Minnis is also focused on going after companies with delinquent National Insurance Board (NIB) contributions and those who owe money to the Public Treasury.
The Tribune understands the prime minister does not want to know who is on the "do not disconnect" list, but is resolute no one is above the law and those who cannot pay their bills should have their electricity shut off.