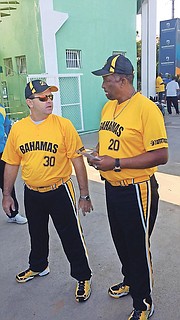 By BRENT STUBBS
Senior Sports Reporter
bstubbs@tribunemedia.net
The men's national softball team split another double header yesterday, dropping to an even .500 mark with a 2-2 win-loss record at the WBSC 10th Pan Am Tournament in Santo Domingo, Dominican Republic.
The team, managed by Perry Seymour, lost 8-1 to Canada in their opener but bounced back to thrash Belize 8-0 in the other game.
In their game against Canada, Thomas Davis, who has recovered from the injury he sustained in a team practice here, got the starting nod, but after the team got off sluggishly in the first inning giving up four runs to fall into a hole, Martin Burrows came in and completed the game.
Against Belize as they avenged their earlier defeat, Desmond Russell from Grand Bahama cracked another home run and Sherman Ferguson belted two, including a three-run walk off homer. Lyle Sawyer from Abaco was the winning pitcher.
At this point in the tournament, Seymour said the coaching staff made up of Richard 'the Lion-Heart' Johnson and Haziel McDonald from Abaco, are just waiting on the youthful squad to put the timely hits together.
"In the first game, we only gave up one hit, but we didn't play that well," Seymour said. "Usually when we get off to a slow start, we come back. But we played against Canada and they took advantage of the mistakes we made and we couldn't come back. But the team played extremely well in the second game against Belize. We needed that kind of effort against Canada."
Today, the team, which had its share of problems getting out of the country in the aftermath of Hurricane Irma, will be back for their third straight double header today when they take on Mexico in the opener at 8:30pm, followed by Argentina at 12:45 pm.
"We need to win against one of them and beat Panama in our last game in the round robin on Wednesday in order to make the playoffs," Seymour said.
"We have a chance in both of the games, but we will need our pitching to hold up and if we can get some timely hits, we should be able to do something."
After getting stuck here for about two days as they ended up missing the first two days of competition, Seymour admitted that the players were a bit despondent, but now they are even more concerned with Hurricane Maria threatening.
"From the information we got, we might just get a piece of it from the outside," Seymour said. "They changed the schedule because of the hurricane. That is why we're playing so many double headers every day.
"The weather is supposed to hit us on Thursday and they feel they might get plenty rain, so they are trying to get all of the regular series games finished."
While they have to deal with the hectic schedule of playing so many double headers, Seymour said they have the added pressure of playing in the heat.
"It's really hot over here," he stated. "For some reason, they are not giving us any late games. So far, we have been playing from 8:30 in the morning and then we will get a game break and come right back and play our second game. I think it's taking its toll on our players."
In their pool play, Seymour said it was disheartening for the team when they lost their opener 2-1 to Guatemala, one of the four teams they had projected to beat.
He said their two victories against Costa Rica and Belize were added in the mix, along with their last game against Panama.
However, he said after losing to Guatemala and Canada, they now have an uphill battle in their final three games. They will need to finish in the top four at the end of the tournament, but be one of the top two English-speaking countries, to be eligible to qualify for the 2019 Pan American Games.
The other members of the team are Alcott Forbes, Angelo Dillett, Austin Hanna, Courtney Smith, Garfield Bethel, Lamar Watkins, Micah Bethel from Eleuthera, Philip Johnson and Wayne Johnson.