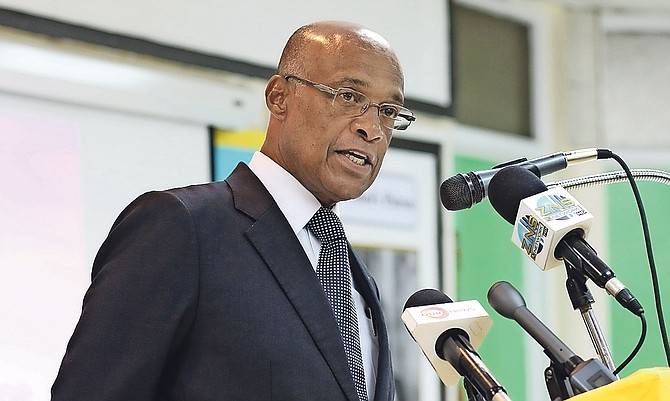 By AVA TURNQUEST
Tribune Chief Reporter
aturnquest@tribunemedia.net
POINTING to a "decided drop" in school enrolment over the last three years, Education Minister Jeff Lloyd yesterday stressed that the impact of the country's immigration policy on public services had the potential of creating "fatal" consequences, and a serious threat to the country's national security.
Mr Lloyd said the government intended to review the policy's impact on access to education with urgent and immediate advisory at next week's Cabinet meeting, suggesting that a new policy or amendment was on the horizon.
He acknowledged that the impact of the policy introduced in November 2014 on school registration, contravened both the domestic Education Act and the United Nations' Convention on the Rights of the Child (UNCRC).
"This has obviously been a very sensitive and emotionally wrought issue," said Mr Lloyd as a guest on Guardian radio talk show Real Talk Live with host Carlton Smith.
"Our Education Act is very clear, the act prescribes that the Minister of Education shall provide all persons in the Bahamas an opportunity to receive an education. That's the Act, that's the law, all persons.
He continued: "Now let me take this outside of the law for the moment and speak to a cosmological, sociological, philosophical understanding that our Bahamian people need to have. It would be fatal and a threat to our national security, and I don't mince my words.
"It would be fatal and a serious threat to our national security for us to have any group of people in our country, particularly young persons of school age who are resident in this country, who are likely to remain resident in this country, who do not benefit from our own sociological and cultural conditioning, it would be fatal."
Mr Lloyd said: "I cannot be serious about this more than I am right now, and I know that we need to have an adult conversation and Bahamian people have got to grow up and understand."
The November 2014 policy mandates that every person living in the Bahamas has a passport of their nationality with proof to legally reside in this country, among other restrictions, like the requirement for every foreign person enrolled in schools, including children born in The Bahamas to immigrants, to have a student permit.
Although the policy was introduced in November 2014, the restrictions did not come into effect until the Fall 2015 school semester.
"It's in contravention of the law," Mr Lloyd continued, "that's the policy as it stands today, until the Cabinet of the Bahamas decides otherwise that is the policy. I have to be directed by the Cabinet and the Cabinet of course is taking this right now under urgent and immediate advisory and discussion, and will come forth with a policy."
Mr Lloyd said he fully understood the the anger and anxiety many Bahamian parents hold concerning overcrowding in schools, which he admitted were "bursting at the seams".
He said he sympathized with parents in certain communities who are unable to register their children in the area's schools because they were full.
"The parents, they surmise that [schools] are full with illegal children or children of illegal immigrants have gone in and taken up the spaces that should rightfully be reserved for Bahamians.
"I understand the emotions that run on this, I understand the anger, I understand all of that," he said.
He continued: "I'm telling you from a fundamental national sovereignty and national security standpoint that you cannot afford to have in your country persons who are oppressed, marginalized, ostracized, or even feel that way because of actions that are being taken by you."
Activists like, Louby Georges and Rights Bahamas have repeatedly raised concerns over the harmful, dehumanising conditions created by the 2014 immigration policy, which they saw as an attempt to legitimise inhumane state practices against unregularised or undocumented persons.
Last week, Mr Georges highlighted the plight of an 11-year-old special needs boy, who has been unable to attend school for the past three years because of his Haitian mother's legal status.
Haitians represent the largest migrant group in the Bahamas.
However, Mr Lloyd stressed that he did not want to single out an ethnic group because the policy's impact stretched across the entire demographic profile in the country.
"I'm advised that many Bahamians approached the school system without the requisite documentation because they either have no passport or they have no birth certificate," he said, "especially those coming from certain family islands. They don't have any birth certificate so how do we know who you are."
Mr Lloyd said: "As a result of this policy back in 2014 there has been a decided drop in the enrolment in some of our schools particularly of children of what you might consider to be foreign nationals. If they're going to be in the Bahamas they may be five today but in some short period of time they're going to be 12."
Notwithstanding the the critical need to resolve the complex issue of citizenship surrounding persons born in the Bahamas to non-nationals, and illegal immigration challenges, Mr Lloyd said it was unfortunate that some persons were tying the country's immigration laws to children's access to education.
"Yes we need to be very clear about those who are here illegally and they should be dealt with obviously," Mr Lloyd said, "but we've got a big issue, a mountain of a giant of an elephant in the room.
"And that is thousands of people who are born in this country, children who according to the constitution have to wait for 18 years before they can make an application (for citizenship) and in that time they are basically outside of the system, what do you expect them to feel and do? That's something to be addressed."
Mr Lloyd said: "This issue of denying children who legitimately reside and/or born in the Bahamas a right to education in the Bahamas, that particular policy is going to be reviewed by the Cabinet of the Bahamas and a decision will have to be made.
"I'm suggesting to you, without preempting the decision by Cabinet, that we have a law on the books and a Cabinet of the Bahamas must be guided by the law.
He added: "You are sworn to uphold the laws of this country."