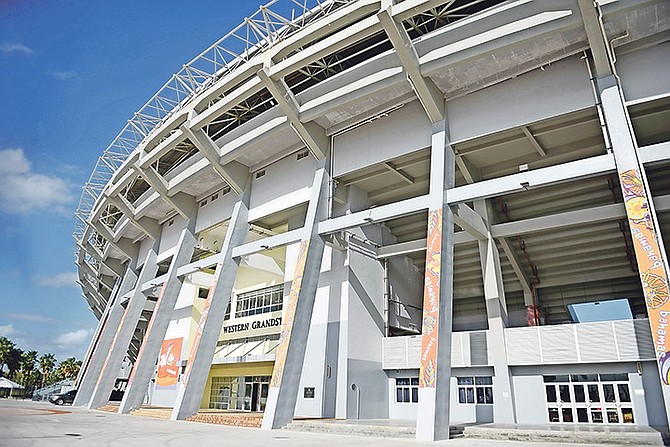 By RENALDO DORSETT
Tribune Sports Reporter
rdorsett@tribunemedia.net
The Bahamas now has a total of 25 medals and is in second place in the standings after two days of competition at the 2018 Flow CARIFTA Track and Field Championships.
The team had captured five gold, 12 silver and eight bronze medals by the end of session four on Sunday night at the Thomas A Robinson Stadium.
Jamaica is far ahead of the field with a total of 47 medals including 25 gold, 16 silver and six bronze.
Mitchell Curtis was the highlight for team Bahamas on day two when the middle distance star won his second medal in as many nights.
Curtis won gold in the U 17 Boys 3000m in 9:04.65 secs and fought off a challenge down the stretch from Jamaica's Giovouni Henry who finished second in 9:04.98 secs.
Curtis was ahead for much of the race before Henry pulled even near the 150m on the final lap. Curtis looked briefly to his right to see Henry enter his peripheral vision but backed by an exuberant home crowd, he powered down the stretch for the win.
"I was thinking this is my race," Curtis said, "I know my teammates, my country wanted it so I had to do it for them."
Curtis also won a silver in the 1500m on opening night. Gianni Henry of Jamaica finished third in 9:21.97 secs.
The Bahamas' day on the track began with Indea Cartwright's silver medal in the U 17 Girls 400m Hurdles in 1:02.17 secs. Shaunece Miller was fourth in 1:07.54 secs. Calisha Taylor of Jamaica took first place in 1:01.04 secs and Patrice Richards of Trinidad and Tobago was third in 1:02.56 secs.
Raymond Oriakhi won his second medal of the meet when he took bronze in the U 17 Boys 400m Hurdles in 54.54 secs. Devonte Archer of Jamaica won gold in 52.85 secs, followed by Kyle Gale of Barbados in 54.45 secs.
Oriakhi also won bronze in the 400m on opening night.
The Bahamas occupied two spots on the medal podium in the U 17 Boys High Jump with Tyler Missick and Christian Sturrup after both cleared 1.90m. Missick took silver on fewer knockdowns, and Sturrup won bronze. Romaine Beckford of Jamaica won gold as the only member of the field to clear 2.00m.
Anthaya Charlton won bronze in the U17 Girls Long Jump with a mark of 5.64m. Jamaicans claimed the gold and silver medals with Ackelia Smith (5.91m) and Velecia Williams (5.73m) respectively.
Denvaughn Whymns also won bronze in the U 20 Boys Long Jump with a leap of 7.13m. Again, Jamaica was first and second with Wayne Pinnock (7.46m) and Safin Wills (7.28m).
With only three competitors in the U 20 Boys Pole Vault, team Bahamas was assured another pair of medals. Vano Rahming won silver at 3.40m and Tristan Hanna won bronze at 3.20m. Baptiste Thiery of Martinique won gold at 5.05m.
In the throws, Tarajh Hudson won bronze in the U 17 Boys Shot Put with his mark of 14.01m. Zackery Dillon (16.40m) and Ralford Mullings (15.49m), both of Jamaica, took gold and silver respectively.
The Bahamas also won a pair of silver medals in the 4x100m. In the U 17 Girls the team of Charlton, Jaida Knowles, Danielle Saunders and Megan Moss finished second in 46.24 secs.
In the U 20 Girls, Denisha Cartwright, Devine Parker, Lakelle Kinteh and Sasha Wells were second at 45.14 secs.
In the 200m prelims, the Bahamas produced a pair of qualifiers in each final.
Both U 17 Girls advanced as with first place finishes in their respective heats. Jaida Knowles won heat one in 23.91 secs and Megan Moss won heat three in 24.37 secs to qualify with the second and fourth fastest times respectively.
Both U20 Boys advanced in the same fashion by winning their respective heats. Joel Johnson, the 100m champion, took heat one in 20.90 secs while 100m silver medalist Adrian Curry won heat four in 21.33 secs. Johnson will head into the final with the second fastest qualifying time and Curry is seeded fourth.
In the U 20 Girls, Devine Parker advanced with the second fastest time in the field after she won heat one in 23.68 secs. Wendira Moss finished second in heat three and enters the final as the fifth seed in 24.13 secs.
In the U17 Boys, Terrance Jones advanced with the fifth fastest qualifying time (21.84 secs) and Kendal Culmer enters the final as the sixth seed (22.06 secs).
The final day of the meet begins Monday morning with session five at 9am and session six which begins at 4pm.