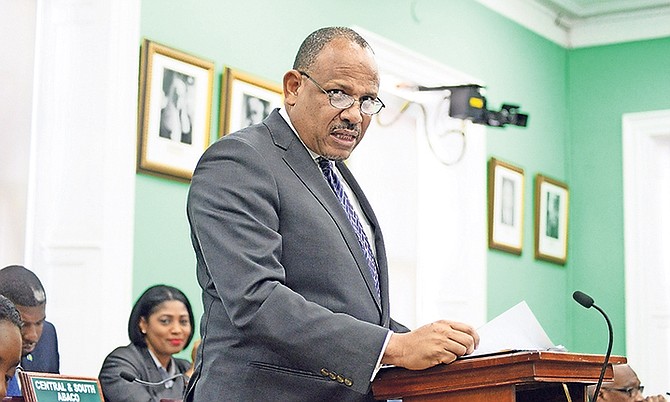 By AVA TURNQUEST
Tribune Chief Reporter
aturnquest@tribunemedia.net
HEALTH Minister Dr Duane Sands yesterday expressed his full confidence in Prime Minister Dr Hubert Minnis' leadership, dismissing social media and tabloid rumours of a budding FNM coup d'état.
"No truth at all," he said, "no truth at all, idle hands clearly is the devil's work."
Dr Sands responded to claims he was leading or a part of a break-away faction to unseat Dr Minnis as he fielded questions from reporters outside the Cabinet Office yesterday morning.
"I certainly have great confidence in the prime minister of the Commonwealth of The Bahamas. I hope that he has confidence in me but I can say categorically that Duane Sands is not involved in any imaginary coup and I am not aware of any coup at all."
Outside Cabinet, Dr Sands also provided an update on HIV/AIDS drug shortages at facilities in New Providence last month.
He told The Tribune last week levels were still critically low, but additional stock has been sourced until main supplies were restored.
"We are expecting the definitive order, which was some $260,000 worth of HIV medication, as well as the reagents to test for the CD4 levels and viral loads, that would have been paid for," he said yesterday.
"That would have been, all totalled, almost $320,000 of outlay in order to maintain the capacity to both treat and test for HIV."
Dr Sands added: "With the new initiative, the 90-90-90 initiative, there is going to be an escalating demand for testing ability, lab reagents and lab equipment.
"So what budget might apply last year is not going to do this year.
"What we would like to do is get to the point where we know that 90 percent of the people who are HIV positive are on therapy and that 90 percent of them have effective viral suppression," he continued.
"We are nowhere near that yet.
"We believe that we may be as high a 60 plus percent in terms of suppression of those people on therapy.
"But if we are going to convert HIV to the equivalent of a chronic disease and get to the point where HIV can be eradicated in the Bahamas, then we have to increase our efforts.
"And that means much more of an investment by the government and by the people of the Bahamas."