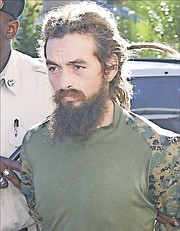 By NICO SCAVELLA
Tribune Staff Reporter
nscavella@tribunemedia.net
A FORMER United States marine is seeking to challenge his conviction and consequent 15-year sentence for attempting to murder another man on a Family Island four years ago after cross-appealing the Crown's assertions that his sentence was unduly lenient.
Heath John Henry appeared before appellate Justices Jon Isaacs, Stella Crane-Scott and Roy Jones yesterday for the substantive hearing of proceedings concerning his punishment for shooting Jonathan Rahming on December 2014 at Current Island, Eleuthera.
However, Henry's attorney Mario McCartney indicated to the court he was not entirely ready to proceed yesterday, as he had only recently received certain documents from the attorneys who represented Henry at trial.
That, coupled with his application to be allowed to amend certain grounds of his client's appeal, led Mr McCartney to request an adjournment in the matter.
In response however, Justice Isaacs said it was "presumptuous" for the attorney to have decided to request an adjournment on a date fixed for the substantive hearing.
"Left of my own devices, I would dismiss this appeal," Justice Isaacs said.
Justice Jones also noted the entire situation was "disrespectful".
Crown prosecutor Eucal Bonaby, meanwhile, said he while he did not object to Mr McCartney's application to amend, he does object to Mr McCartney's application to adduce "fresh evidence".
The appellate judges ultimately adjourned the matter to June 20. However, Justice Isaacs admonished Mr McCartney that whatever needs to be done from his end should be done in sufficient time to allow the Crown to respond, and the court to peruse the information.
On January 2, 2015, a police search team found Henry hiding under a Ghillie blanket — a type of camouflage — on a cliff on Current Island.
He allegedly told police that Rahming charged at him while wielding a cutlass and he shot him in self-defence. When asked for the location of the gun, Henry said that he had thrown it in a swamp.
During trial, Henry opted to remain silent and called no witnesses to testify in his defence. He was subsequently convicted in March 2016 by a majority verdict of 8-1.
On July 13, 2016, Supreme Court Justice Bernard Turner sentenced Henry to 15 years in prison to run from the date of conviction, March 23, 2016.
That sentence was more than the five to ten years his then-attorney Christina Galanos had asked for during submissions heard by that judge on June 22, 2016.
The Crown, meanwhile, spearheaded by Mr Bonaby, had recommended 15 years to life imprisonment.
Justice Turner, in giving his ruling on sentencing, said he had considered the favourable probation report and character witness testimonies as well as the relative youth of the convict.
However, the judge said he needed to impose a sentence "sufficient to express society's intolerance and abhorrence for violent and criminal activity, in particular criminal activity involving the use of a firearm."
The judge also recalled evidence that Henry tried to evade arrest and was only caught by police when they detected movement in the area in which he had camouflaged himself.
In January of last year, The Tribune reported how Henry's friends, who felt Henry was unfairly tried and convicted, were raising funds to cover the legal costs that would allow the ex-solider to contest his conviction.
At the time, Travis Granfar, a US-based attorney and personal friend of Henry, was seeking help to do so via a StartSomeGood account titled "Fair Trial for John Henry" set up to raise $7,500 to retain new counsel to argue the appeal.