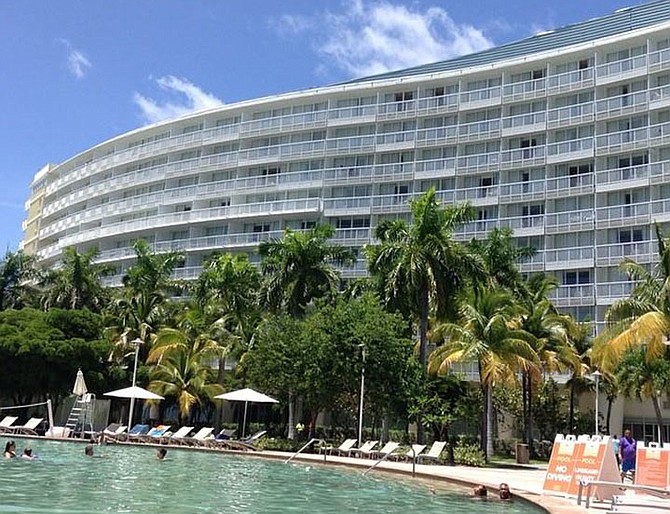 By MORGAN ADDERLEY
Tribune Staff Reporter
madderley@tribunemedia.net
THE Wynn Group's proposal to purchase the Grand Lucayan hotel in Grand Bahama was "unacceptable to the government" press secretary Anthony Newbold said yesterday.
During his press briefing held at the Office of the Prime Minister, Mr Newbold admitted that while the government is still seeking a buyer, the Minnis administration may have to "step in" and purchase the hotel.
When asked what funds the government would use for this purpose, Mr Newbold said Minister of Finance Peter Turnquest would be able to use "leeway" to "find the money somewhere" for this endeavour.
Reports have surfaced recently that the Wynn Group's $70m deal to purchase Freeport's anchor resort property will not proceed. This has left the government to face the prospect of either acquiring the hotel itself or finding another buyer.
Last Friday, Prime Minister Dr Hubert Minnis told Free National Movement supporters in Grand Bahama that "that under no circumstances will the Grand Lucayan close".
Dr Minnis said the jobs at that resort must be protected, adding the government will continue to search, and if the need arises, will intervene and purchase the Grand Lucayan.
Dr Minnis said people in Nassau did not understand the level of importance the resort held when it came to that island's economy.
When asked yesterday if it is concrete that the government will buy the hotel, Mr Newbold said: "The plan always was to sell…The plan was always to engage an operator for the hotel. The proposal left on the table was unacceptable to the government. As a consequence, we say it was unacceptable to the Bahamian people. So it was rejected. No plan up to today has surfaced that is acceptable.
"And so the government, as Prime Minister Minnis has said, may just have to step in and buy the hotel and find somebody to operate it. That is always the position."
Mr Newbold noted while Dr Minnis is not a hotelier, 10-12 years ago he served as chairman of the Hotel Corporation.
"So I can tell you that he had no intention and no desire to get into the hotel business. But again, (it is) one of those options that you hope you don't have to exercise.
"But, the government continues to try to find a buyer, and until they do, (there was) talk last week about the human element that you can't ignore. And so there are a lot of people, as (Dr Minnis) said, you know people in Nassau may not understand, but there are some people in Grand Bahama who need to work.
"And that's one of the places that they need to work. Because that's what they do. They're hoteliers. And so the government has committed to not letting that property die. And it won't. Now, that has to be dealt with. And we need to think about Grand Bahama."
Mr Newbold also said the critiques that "there's nothing going on" on that island are "foolishness".
"(The) Commercial Enterprises Bill that was criticised so heavily by the opposition - GBC Digital came in there with 50 jobs right away. Said, 'we're going to hire some more people.'
"...So there are some things going on in Grand Bahama. And you know, you keep working those until you get to a place where there's an acceptable proposal for that Grand Lucayan hotel."
The government had allocated $25m in the 2018-2019 budget for an equity stake in the Grand Lucayan's purchase, estimated to be around 20 percent, plus fund the provision of airlift and marketing support.
When asked if these funds would be used for the purchase of the hotel, Mr Newbold said "leeway" will be found.
"Well, you're talking about, there's always some leeway somewhere. The minister of finance can find whatever those leeways are, whatever those little pieces (are) here. And you know you find the budget for 2018-2019 says this, and you come into 2019-2020, and you hear, 'well no, we're not going to give you the $50m, we're going to give you $40m.' Why is that?
"In a lot of instances, because you couldn't spend that $50m that you got last year. It wasn't possible for you to spend it. Whichever way the government and the minister of finance, whatever they need to do to find a way, if that is the final decision, 'We're going to buy this hotel', he will have to find the money somewhere and make it more palatable to everyone."
Mr Newbold was asked by reporters why it has been so challenging to find a buyer for the hotel. He pointed to the difficulty of the market and other issues such as airlift.
"Well you know, Grand Lucayan is just the latest in a series of hotels," he said.
"You go all the way back to the Princess properties. Just, it's a difficult market. And you talk about one of the elements of purchasing a hotel or operating a hotel.
"You need airlift. One of the biggest challenges for anyone operating in Grand Bahama -- it's just, it's crazy to fly from New York or Florida, for that matter, to Grand Bahama.…How do you find the proper airlift to feed a hotel that you would open?
"And so it's a challenge that's gone back years. And so, again, you keep trying to find a solution to it. There's got to be some solution. And one that obviously is not the most palatable. Most people say, 'you're going to do that?' Well, what do you do?
Mr Newbold was also asked if the government would face an airlift challenge and whether it would consider renegotiating with Sunwing Travel Group.
Last month, The Tribune was told that Sunwing, the Canadian tour operator, and its Memories hotel brand affiliate, had withdrawn from plans to come in as one of the Grand Lucayan's resort operators under Wynn's ownership.
Memories had previously operated one of the complex's three resort properties, only to pull out in Hurricane Matthew's aftermath amid a dispute with current owner, Cheung Kong (CK) Property Holdings.
"Whatever the elements are that must go into whomever the operator is, airlift will be part of that," Mr Newbold said.
"Sunwing is familiar with the property, they're familiar with Grand Bahama. I'm sure they will talk to them as well as other operators as well."
Mr Newbold also said that once the hotel is open, he "presumes" the casino would also be opened.
The press secretary also noted yesterday that while the House of Assembly is having its summer recess, Dr Minnis will be "taking the opportunity" to spend some time with his family. The prime minister is out of the country from today until Saturday.