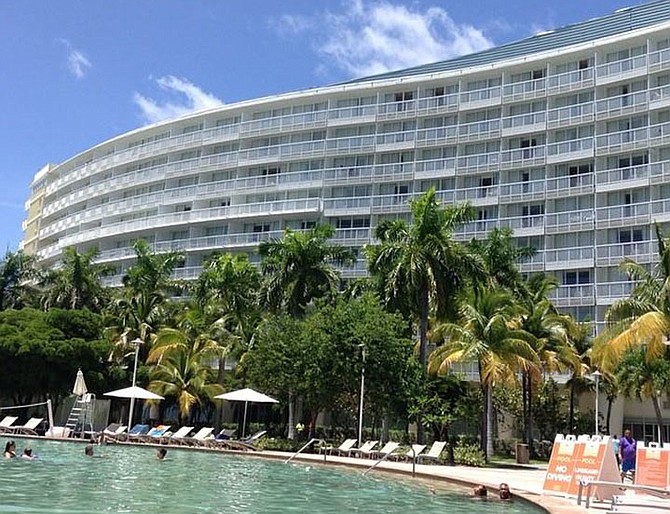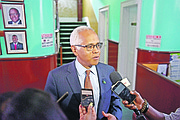 By AVA TURNQUEST
Tribune Chief Reporter
aturnquest@tribunemedia.net
TOURISM Minister Dionisio D'Aguilar said yesterday the government was forced to act to save the Grand Lucayan hotel properties because its owner Hutchison Whampoa has been threatening to shut down the property.
Mr D'Aguilar stressed the move was "the best of a bad choice" in an "emergency" situation.
He told media outside Cabinet he personally discouraged such acquisitions as a former private sector professional, adding it was too early to tell whether the government's purchase would increase tourism revenue for the island.
"There are so many things you need to do to correct that property," Mr D'Aguilar said, "but you know the purchaser is threatening every day to close it and lay off all these Bahamians and to close it, and once you close it, it's so difficult to reopen. So we're making the best of a bad situation and we are trying as best as possible to be a kind and caring government.
"I know there are many naysayers out there. I'm from the private sector, trust me when I say I don't want governments to buy assets like this. But the evidence is there, when we didn't act in the past, the results were devastating. So we have to do something, we have to do something for the economy of Freeport."
The Grand Lucayan resort, which consists of three properties, has been closed since Hurricane Matthew in 2016. Only the 200-room Lighthouse Point property re-opened in November of that year.
Another hotel on the island, the Royal Oasis Resort, was shuttered after Hurricanes Jeanne and Frances hit Grand Bahama in 2004. This had a devastating effect on the island's economy.
When asked whether the government could afford the sale, Mr D'Aguilar insisted the government will still meet its budget targets.
"Life is about choices," he said.
"There's a certain amount in the budget, that we had put in the budget for the Grand Lucayan project, recognising from the outset that there would be the need to assist that project."
The Minnis administration previously allocated $25 million in the 218-2019 budget for an equity stake in the resort.
"Is it enough, obviously not, so we'll have to take from one area, tighten over here, but we will come in on budget," Mr D'Aguilar said.
"I know that there are a lot of people complaining that look, we've jacked up our VAT, say we can't afford this and we can't afford that. This is like a hurricane that has blown up and so we have to deal with it. This is an emergency situation and we are just going to have to belt tighten somewhere else to ensure that we keep within the budget. So it's tough choices, it's not an easy decision, it's a tough choice, I want the Bahamian people to know that."
Prime Minister Dr Hubert Minnis is expected to make a detailed address this week explaining the government's decision.
Dr Minnis told reporters on Saturday, failure to re-open the hotel will result in the loss of jobs for 400 workers and also unleash a ripple effect that forces the closure of stores, barbershops and other small businesses.
Yesterday, Mr D'Aguilar said: "So on the one hand if you do nothing, you run the possibility of another Royal Oasis debacle evolving. And I want to remind the Bahamian people what happened there. The government did not step forward. They were hoping to have it sold and the rest is history.
"You have a hotel that's dead, it then had the effects of destroying the International Bazaar and it died. So there's that decision," he continued.
"Then there's the decision of the government buying a hotel. The government does not want to buy a hotel. The government does not want to operate a hotel. The prime minister was chairman of the Hotel Corporation back in the day and he remembers when the government owned hotels, so this is not something that we are willingly wanting to do.
"But we feel compelled to step forward to do something. No one is willing to step forward to purchase the hotel, so the government must step in, to avoid the closure of that hotel and the economic consequences that may appear or that may happen. So it's not a good decision, but we have to make a decision."
"So that's what we're doing," he added, "and we hope as quickly as possible to find another buyer to take it off our hands."