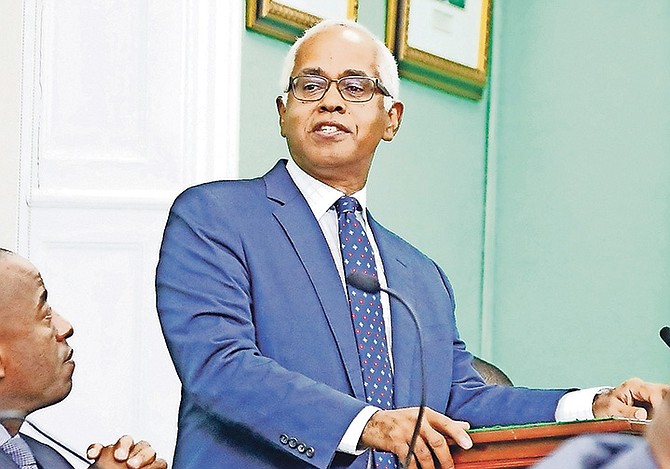 Reader poll
187 total votes.
By NEIL HARTNELL
Tribune Business Editor
nhartnell@tribunemedia.net
The $65m Grand Lucayan deal "is not a cataclysmic event" for the Government's finances, a Cabinet minister argued yesterday, insisting: "We think we've hit a home run."
Dionisio D'Aguilar, minister of tourism and aviation, told Tribune Business that the purchase price paled into insignificance when compared to the $2.636 billion recurrent spending budgeted by the Minnis administration for the 2018-2019 fiscal year.
Defending the Government's hotel acquisition from critics he described as "armchair quarterbacks", Mr D'Aguilar said it was only paying $30m of the purchase price this fiscal year - a sum that was just $5m greater than what it had originally allocated to support the failed Wynn Group purchase.
The Minister admitted the Government is "taking a risk" through its intervention, and "history will judge" whether it "hits a home run" - as it believes - or "strikes out" as critics such as Fred Smith, the Freeport-based QC, anticipate.
Comparing the Grand Lucayan situation to a baseball game, Mr D'Aguilar said the Government could ill-afford "to sit in the dug-out and do nothing" as current owner, Hutchison Whampoa, closed the property and the majority of Freeport's stopover tourism industry.
He pointed to the nearby Royal Oasis as an example of shuttered resort properties that had proven impossible to re-open, and described the Grand Lucayan as "a rounding error already written off" by the Hong Kong-based conglomerate.
Mr D'Aguilar revealed that Cheung Kong (CK) Property Holdings, Hutchison Whampoa's real estate arm, had been threatening to close the resort since the May 2017 general election, and it was only the Minnis administration's intervention then that kept the Grand Lucayan open "for as long as it has been".
With CK Property Holdings' patience wearing thin as the Hurricane Matthew insurance payments ran out, and Wynn withdrawing from the purchase, he argued that the Government was faced with "an emergency situation" that left it no alternative but to act.
Mr D'Aguilar also confirmed to Tribune Business that appointing a brand operator/management company to run the Grand Lucayan was the Government's "second choice", and would likely only be considered if a quick sale was not achieved.
He added that the Minnis administration was not keen on adding an extra layer of cost, and to become a landlord, given that such a scenario would likely incur increasing losses for Bahamian taxpayers.
Mr Smith and others have blasted the Government's Grand Lucayan purchase as "economic suicide", and a move that will "plague" Bahamian taxpayers and the Public Treasury for years to come, but Mr D'Aguilar countered that its economic importance to Freeport meant it could not be allowed "to wither and die".
"Look, the analogy I like to draw is the game of baseball," he told Tribune Business. "We could sit in the dug out and do nothing, and let it take the course it was going to take. Hutchison Whampoa was going to close the hotel, and history shows when you allow a hotel to close it's a lot more difficult to get it open again.
"We decided to go up to the plate and swing the bat. We could hit a home run, which we think we're going to do, or strike out, which Mr Smith thinks could happen. History will tell us who was right.
"We feel it was worth the risk; that we had to do something. We had to step up to the plate, we had to swing the bat. We can't let the hotel wither and die without making some effort."
The Grand Lucayan deal is structured such that the Government has paid a $10m deposit upfront, with a further $20m due to Hutchison Whampoa upon closing and conveyance of the real estate. The $35m balance is to be paid off in a series of seven bi-annual $5m instalments spread over the next three-and-a-half years.
As a result, Mr D'Aguilar said the acquisition costs would impose no undue strain on the Government's 2018-2019 Budget - especially since some $25m had already been allocated to finance an equity stake in the aborted Wynn deal, and for marketing and airlift support.
"There's time to pay for it. In this current fiscal year we're spending only $5m more than budgeted," Mr D'Aguilar told Tribune Business. "It's not like in a $2.6 billion Budget this is going to be the cataclysmic event that causes a change in our economy.
"It's about leadership. We have to take the risk. If all decisions were easy we'd make an easy decision, but life is about risk. We have to take the risk. Our risk is going to try and make this work.
"We could sit in the dug out and do nothing, but that is not what we were elected to do. The Government was elected to take that risk, get up to the plate and swing the bat. We may not hit a home run every time, but we've got to try. Many people are going to armchair quarterback this decision, but it behooves the Government to step in," he continued.
"Tourism is a large employer. It's the most efficient way of putting money in the hands of the people. The fact we're such a tourism-dependent nation behooves us to act."
Hutchison Whampoa was sticking rigidly to its $65m price - a level that was unlikely to attract private buyers, given the likely $100m-plus investment required to repair, renovate and re-open all the Grand Lucayan, plus rebuild airlift and promotional activities.
Taking the Hong Kong conglomerate out of the equation means there will be more flexibility on purchase price. And, with $25m already allocated in the 2018-2018 Budget, the Government could 'break even' on the acquisition if it were to obtain a price of around $40m - the figure at which Wynn sought a renegotiated deal.
Mr D'Aguilar argued that the Grand Lucayan was a relatively insignificant part of Hutchison Whampoa's empire far from Hong Kong, which meant that it did not merit the attention required by Freeport's economy and tourism product.
"We're a motivated seller and this hotel is a rounding error to Hutchison Whampoa," he told Tribune Business. "They don't care. This is an asset they've clearly written off already. They're not interested in doing anything with it as they've sucked all the insurance money [from Hurricane Matthew] out. They've checked out.
"Hutchison have been trying to sell this property since 2016 and have had no luck. One can argue they're not a motivated seller, as they were not moving very quickly. In almost two years they've had no purchaser and have not sealed a deal.
"They are in a completely different timezone, and it's such a tiny, tiny portion of their empire. They don't feel the sense of urgency we feel to make something happen. The Government is trying to be a bit more nimble and get results faster. Time will tell."
Tribune Business revealed last month that Hutchison/CK Property Holdings was set to close the Grand Lucayan's last remaining property, the 196-room Lighthouse Pointe, next month after the last insurance payment from Hurricane Matthew was received.
Mr D'Aguilar, though, revealed that the prospect of closure had loomed long before. "They were threatening to close the hotel from May 2017," he disclosed. "It was thanks to the intervention of this government that we were able to keep it open as long as we did.
"I know from the time we came to office they've been threatening to close that hotel. The intervention of the Prime Minister is what saved it, but I guess we reached the end of that course."
Mr D'Aguilar said his "gut" instinct told him the Grand Lucayan would attract interested buyers. However, any purchaser will not be taking on just a hotel but the task of rebuilding an entire city's/island's tourism product, turning it into a destination that does not compete head on with Nassau/Paradise Island, Florida or other regional rivals.
This likely means the Government must seek out visionaries such as Sol Kerzner (Atlantis) and Sarkis Izmirlian (Baha Mar), with both the financial backing and imagination to take a risk in reviving an island that has lost 59 percent of its room inventory since Hurricane Matthew.
"The primary goal is to sell the property," Mr D'Aguilar reiterated. "The Government should not be in the business of running a hotel. This is an emergency situation where we had to step in, but we fundamentally believe the Government of the Bahamas should be in this business."
He added that Dr Hubert Minnis, as a former Hotel Corporation chairman, was all too aware of the perils and multi-million dollar financial bleeding that hotel ownership can impose. "We'd obviously like a quick sale but a sale to the right buyer," Mr D'Aguilar said.
"We want someone in there who's passionate about Grand Bahama, and really wants to transform that hotel and give it the level of attention and passion given to Baha Mar and Atlantis. We need someone with that level of attention, that level of love for Grand Bahama who really wants to make it work. We're anxious to sell it onward to the right buyer."
Mr D'Aguilar described a rapid sale as the Government's "choice number one", with the hiring of a brand operator/management company acting as a fall-back option if that was not achieved.
"The Government would prefer not to be in a position where it is the lessor," he explained. "We would prefer not to be in the landlord position, as landlords have certain obligations to maintain the property and absorb losses because the tenant manages the property.
"The tenant takes their fee as a percentage off the top, and the losses are absorbed by the owner. We would prefer not to be in that situation. That's not an ideal outcome."